JURA 2-phase Descaling Tablets (9 pcs)
ECCELLENTE
You save 44%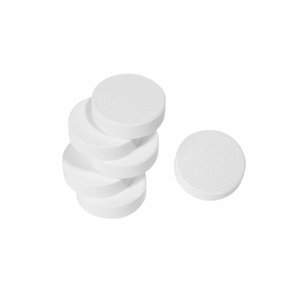 View
Product Information
Content
9 Jura descaling tablets
Gives you 3 descaling doses.
Description
Specially developed descaling tablets for Jura's fully automatic coffee machines which are sulfamic acid based, for a thorough removal of residue and limescale. The tablets' composition is exactly geared to the use in Jura's fully automatic coffee machines and guarantees a very efficient descaling without damaging the materials. Descaling will prolong the durability of your Jura coffee machine.
NEW: Descaling in 2 phases
The descaling tablet developed especially for JURA coffee machines has an optimised dissolving time, removes scale cleanly and efficiently and delivers lasting results.
The descaling operation now comprises two phases:
Phase one: Carefully removes all scale residue from the coffee machine.
Phase two: Seals the fluid system and ensures long-term corrosion protection for pipes and thermoblock.
Instructions
Step 1. Dissolve the contents of a blister pack (3 Jura descaling tablets) in a container with 500ml lukewarm water. 
Step 2. Start the descaling process as described in your manual.
Step 3. Pour the solution in the water reservoir at the correct time, stated in your manual.
Step 4. Continue with the directions in your manual.
Solution mixture: IMPRESSA C-, E-, F-, J-line, ENA: 0,5 l. All the other IMPRESSA machines: 0,6 l, SUBITO: 0,7 l, JAGUA S60: 0,4 l, JAGUA D70: 0,3 l.
Comments
The Jura descaling tablets will not clean coffee oils. For cleaning we recommend Jura cleaning tablets.
| | |
| --- | --- |
| Name | 2-phase Descaling Tablets (9 pcs) |
| Brand | JURA |
| Article code | 61848 |
| SKU | E-0052 |
| EAN | 7610917618484 |
| Safety Sheet | https://issuu.com/everlake/docs/uksdb-jura-entkalkungstabletten |
| Previous product numbers | E-0052 - E0052 - 61848 - 812341 |
| Condition | New |
4.75

stars based on

20

reviews
Quick delivery. Recommend
Door
janusz
op 06-08-2023
The descales tablets were fine, but the parcel arrived with a similar sized, but heavier parcel bearing the identical postage (2 for the price of one?) said the Post Office clerk. The heavy parcel contained a vulgar card game 'For Horrible People' it stated. Not wanted. Not appreciated.
Door
Graem
op 20-08-2022
Good original tablets from Jura
Door
Vlada
op 24-01-2022
Good original tablets
Door
Vlada
op 24-01-2022
Very good quality
Door
Anna
op 20-01-2022
Great product, delivery could have been better
Door
Paul
op 27-11-2021
Excellent - Excellent
Door
Mfb
op 02-05-2019
Descaler for Jura coffee machine - Great service, incredibly fast delivery and excellent price. Will be buying all my future Jura products from you. Thank you.
Door
Dawn
op 20-02-2019
Brillient Delivery - I have had a Gaggia Classic coffee machine for 20 + years <br>and always used the recommended Gaggia descaler , <br>So i am very pleased to know where i can buy the descaler<br>in future . You will be hearing from me again . <br>Kind Regards <br>Mrs Shirley Richardson<br>266 Kingston Road <br>Teddington<br>TW119JQ<br><br><br><br>
Door
Shirley
op 05-12-2018
Descaling my Jura - I now own my Jura coffee machine for 7 years and it's still Going strong. We have always used the correct Jura tablets for cleaning and descaling. I believe strongly that that's why it is in the condition as it is. We highly recommend to use Jura tablets for cleaning and descaling.
Door
Retired
op 13-11-2018
Great Product - My first purchase was to test the quality and authenticity of the product. I was not disappointed and re-ordered more. The product works well and theres no point skimping on quality after investing in an expensive coffee machine'
Door
DavidE
op 11-10-2018
Jura Descaler - A branded product, competively priced and delivered quickly. Seemed to do the job.<br>Spoke to a Technician at Jura and said I live in a soft water area and we dont have a limescale problem. He said there are other residues that need cleaning out, the internal tubing is micro bore and it's false economy not to do it or to use inferior products which can react with the metals and plastic. His advice was 'don't skimp' you will only build up expensive problems in the future.'
Door
DavidE
op 04-08-2018
Excellent product - The product speaks for itself. The website was very easy to use - very clear and very prompt delivery. Brilliant - what more could you ask for.
Door
Jura User
op 23-05-2018
Good product - Good product ,quite expensive but have to use with Jura m/c .Service from Descaler u.k. excellent.
Door
DD
op 26-04-2018
Excellent product with equally excellent service - This is an excellent product as well it should be, Jura is a top end coffee machine and it is from Descaler.co.uk that I go to purchase the required cleaning items. I would not buy from anyone else, for those of you out there that read these, my review is 100% honest, the price is always good, the service is second to none and the items are shipped very quickly, there isnt a better service. IU purchase from Descaler.co.uk when I used the Nespresso city, now I've upgraded to a Jura this company is still where I will buy my required coffee machine cleaning products.'
Door
rufax
op 16-04-2018
Official Product, Cheapest I Could Find - Jura standard descaler but much cheaper than ordering them directly from Jura. Arrived the next day.
Door
Oak
op 07-09-2017
Pleased customer - the products arrived quickly - they were easy to use - instructions were clear - Descaler was very helpful through the ordering process - I would order again - thank you
Door
Delia
op 17-08-2017
Does what it says - Easy to use and knowing they get all the right places is perfect. Cheapest Ive found from Descaler keep up the good work '
Door
DaveV
op 23-07-2017
Jura descaler - Havent used them yet but no doubt will be of the standard and quality I come to expect with Jura. Once again decaler has exceeded with service and value.'
Door
Grajax
op 07-06-2017
Great Tablets but not very cheap - The Jura Descaling Tablets are very effective and easy to use. The price of the original items are not very cheap. I would recommend to use an alternative (such as Eccellente descaler)
Door
Product reviewer - Descaler
op 02-12-2015