JURA 3-phase Cleaning Tablets (6 pcs)
ECCELLENTE
You save 40%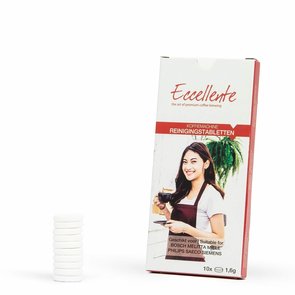 View
Product Information
Contents
6 JURA 3-phase Cleaning Tablets
Gives you 6 cleaning doses.
Description
The JURA 3-phase Cleaning Tablets are specially made for Jura's fully automatic coffee- and espresso machines. The JURA 3-phase Cleaning Tablets will thoroughly remove any coffee residue and oils. The tablets' composition is exactly geared to the use in Jura's fully automatic machines and they guarantee a very efficient cleaning without damaging the materials. This will prolong the durability of your fully automatic machine. The Jura cleaning tablets can also be used for cleaning thermos flasks and other containers and machines with residue. Make sure that you dissolve the Jura cleaning tablets in hot water.
The new 3-phase cleaning tablet doesn't just clean the machine, it also seals it to delay the accumulation of coffee fat residue.
It is very easy to start the cleaning operation at the touch of a button.
Phase 1: Cleaning
The brew group and brewing sieve are thoroughly rinsed with hot water at a temperature of 80 °C. In addition, the highly effective formula of the cleaning tablet removes residues of coffee fat and oil that can disturb the taste and quality of the coffee.
Phase 2: Maintenance
In a second phase, the maintenance phase, special active ingredients seal the surfaces of the respective components and thus prevent the redeposit of coffee grounds and coffee fats.
NEW Phase 3: Protection
In the newly developed third phase, so-called complexing agents permanently protect the fully automatic machine against mineral deposits.
Instructions
Step 1. Place a container under the coffee outlet. 
Step 2. Start the cleaning process as described in your Jura coffee machine manual. 
Step 3. Put a JURA 3-phase Cleaning Tablet in the filter funnel for ground coffee at the correct time, stated in your manual. 
Step 4. Continue with the directions in your manual.
Comments
The JURA 3-phase Cleaning Tablets do not descale. For descaling we recommend Jura descaling tablets.
| | |
| --- | --- |
| Name | 3-phase Cleaning Tablets (6 pcs) |
| Brand | JURA |
| Article code | 62715 |
| SKU | E-0572 |
| EAN | 7610917627158 |
| Safety Sheet | https://issuu.com/everlake/docs/uksdb_jura-reinigungstabletten |
| Previous product numbers | E-0053 - E0053 - 62715 |
| Condition | New |
5

stars based on

11

reviews
Excellent product - I have used this product for many years and will continue to use it.
Door
Ian
op 24-06-2019
Good - Does what it should!
Door
coffeelover
op 03-03-2019
Good brand and deal - I love my coffee machine and these tablets keep it producing great coffee. Descaler are great value and very prompt delivery.
Door
Al
op 11-02-2019
Excellent Product and Service - Once again my cleaning products were delivered quickly. They work really well and it gives one the knowledge and reassurance that by using these excellent products my machine will continue to perform at its optimal performance. Thanks again
Door
Pleased as Punch
op 22-01-2019
Jura cleaning tablets - I love our Jura coffee machine, had it for 7 years and it never misses a beat .... or a decent coffee. So to keep up with the reliability of the machine, we always use Jura cleaning/descaling products. We started buying from Descaler UK approximately 18 months ago and glad we did. Very competitive prices and prompt delivery. As an added bonus, when we bought the cleaning tablets, we used a discount voucher which we had received from a promotional email. We wouldn't buy from anywhere else to be honest.
Door
Donna Shaw
op 21-01-2019
happy customer - I bought from Descaler few time already and will certainly buy from the again as the products are good quality and the delivery service is reliable.
Door
Ewa W
op 28-07-2018
Great prices and service - Have used Descaler several times now, great service and prices, give it a try you'll not be disappointed!
Door
Phil w
op 04-06-2018
An excellent product - A great product needed to clean the Jura coffee machine which was purchased a couple of months ago. I buy my coffee machine cleaning products from Descaler.co.uk as the service and price is second to none, I purchased descaling products from this company when I had my Nespresso Citiz. Highly recommended.
Door
rufax
op 16-04-2018
Good Value - Having just reviewed the smart water filter I also purchased the cleaning tablets again its a Jura product for my Jura E8, these are also good value and also a very fast delivery so all good !!
Door
Kirkyboy
op 11-09-2017
Jura Quality, Lowest Price - Jura standard cleaning tablets but much cheaper than ordering them directly from Jura. Arrived the next day.
Door
Oak
op 07-09-2017
Good deal - excellent brand - Jura is one of the best brands in the market. These cleaning tablets are a must have to keep the machine in good condition!
Door
Product reviewer Descaler UK
op 21-01-2016