JURA 3-phase Cleaning Tablets (25 pcs)
ECCELLENTE
You save 43%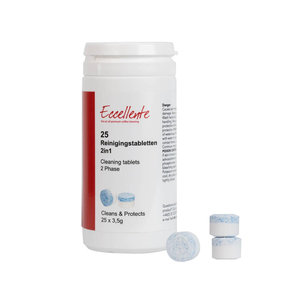 View
Product Information
Contents
25 JURA 3-phase Cleaning Tablets
Gives you 25 cleaning doses.
Description
The JURA 3-phase Cleaning Tablets are specially made for Jura's fully automatic coffee- and espresso machines. The JURA 3-phase Cleaning Tablets will thoroughly remove any coffee residue and oils. The tablets' composition is exactly geared to the use in Jura's fully automatic machines and they guarantee a very efficient cleaning without damaging the materials. This will prolong the durability of your fully automatic machine. The Jura cleaning tablets can also be used for cleaning thermos flasks and other containers and machines with residue. Make sure that you dissolve the Jura cleaning tablets in hot water.
The new 3-phase cleaning tablet doesn't just clean the machine, it also seals it to delay the accumulation of coffee fat residue.
It is very easy to start the cleaning operation at the touch of a button.
Phase I, the cleaning of the brew group and brewing sieve are thoroughly rinsed with hot water at a temperature of 80 °C. In addition, the highly effective formula of the cleaning tablet removes coffee fat and oil residues that can disturb the taste and quality of the coffee.
Phase II, maintenance In a second phase, the maintenance phase, special active ingredients seal the surfaces of the components concerned and thus prevent coffee residues and coffee fats from being deposited again.
Phase III, protection In the newly developed third phase, so-called complexing agents permanently protect the fully automatic machine against mineral deposits.
The result: A hygienically clean fully automatic machine for perfect coffee quality and ultimate enjoyment at the touch of a button.
Instructions
Step 1. Place a container under the coffee outlet. 
Step 2. Start the cleaning process as described in your Jura coffee machine manual. 
Step 3. Put a JURA 3-phase Cleaning Tablet in the filter funnel for ground coffee at the correct time, stated in your manual. 
Step 4. Continue with the directions in your manual.
Comments
The JURA 3-phase Cleaning Tablets do not descale. For descaling we recommend Jura descaling tablets.
| | |
| --- | --- |
| Name | 3-phase Cleaning Tablets (25 pcs) |
| Brand | JURA |
| Article code | 25045 |
| SKU | E-0606 |
| EAN | 7610917250455 |
| Safety Sheet | https://issuu.com/everlake/docs/uksdb_jura-reinigungstabletten |
| Previous product numbers | 25045 - E-0606 - E0606 - E-0575 - E0575 - E-0443 - E0443 - 62535 - 24190 - 202102 - 59633, 68009, 58710, 24224, 24226, 24225, 24190, 24191 |
| Condition | New |
5

stars based on

1

reviews
Easy and efficient website with fair pricing. Very happy with purchase which arrived as promised. Thank you.
Door
Dawn
op 02-05-2023