KRUPS Maintenance kit XS530010
ECCELLENTE
You save 38%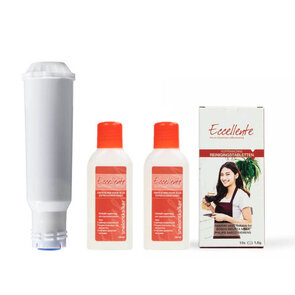 View
Product Information
Contents
2 sachets Krups F054 Anticalc containing 40 grams of descaler. 1 sachet for 1 descaling cycle.
10 Krups XS3000 cleaning tablets, 1 tablet is used for 1 cleaning cycle.
1 Krups F088 Claris water filter, good for 1 to 2 months of freshly filtered water.
Description
Maintenance is an important part of keeping your Krups machine in the best condition it can be. This
maintenance set gives your Krups coffee machine all the parts to fully maintain the machine. Use the
descaler to get all the stubborn limescale out of your coffee machine. Limescale builds up when
water runs through the pipes of your machine. Limescale will damage your machine when not
descaled on time. Regular descaling keeps your Krups machine in great condition. Cleaning tablets
are used to remove coffee fats and oils from your coffee machine. This will make your coffee taste
better. The water filter filters limescale and other substances from your tap water. A water filter is
very useful to combat stubborn limescale.
When you do all of the above regularly your coffee will taste the best and your machine will live a
long life.
Instruction
For instructions on individual products, see separate products:
Krups F054 Anticalc
Krups XS3000 cleaning tablets
Krups F088 Claris water filter
Note
Our own brand Eccellente has the same products for Krups for a cheaper price! Choose Eccellente
Maintenance Kit for Krups XS5300.
| | |
| --- | --- |
| Name | Maintenance kit XS530010 |
| Brand | KRUPS |
| Article code | XS530010 |
| SKU | E-0595 |
| EAN | 3507790050262 |
5

stars based on

1

reviews
Exactly what I needed for my coffee machine. Descaler.co.uk were selling this at the best price I could find, and it was delivered in 48 hours.
Door
Michael
op 22-02-2023