KRUPS XS3000 Cleaning Tablets (10 pcs)
ECCELLENTE
You save 34%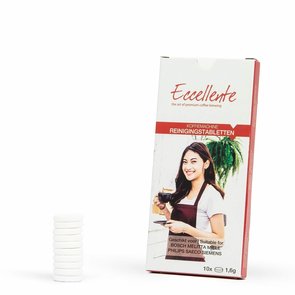 View
Product Information
Contents
10 Krups XS3000 Cleaning Tablets, 1.5 grams each
Gives you 10 cleaning doses.
Description
The Krups XS3000 Cleaning Tablets will clean all the residues and blockages caused by the oils in the coffee. The cleaning is especially important when your machine uses espresso beans (bean-to-cup machine). Regular maintenance will prolong the durability of your machine and ensures a continuous high quality coffee.
Instructions
You will be informed, when to start the cleaning programme, by warning lights or messages on the digital display. A message on the display informs you when you need to start the machine's cleaning programme. A cleaning will be necessary after every 360 coffees or so. In order to run the cleaning programme, you will need a container with a contents of at least 0,6 litres, which needs to be placed under the coffee outlet, and also a KRUPS cleaning tablet. The automatic cleaning programme has three stages: A cleaning cycle and two rinse cycles. The programme takes about 20 minutes.
Step 1. Place a container of at least 0,6 litres.
Step 2. When the message << Cleaning necessary >> is displayed, push the programme button to display the cleaning menu.
Step 3. To start the cleaning programme you choose the 'begin' option and confirm it with the OK button. Then follow the instructions on the display. A message tells you to open the << lid >>. Open the maintenance lid and place the Krups XS3000 Cleaning Tablets in the allocated slot.
A message will be displayed when the programme has finished.
Comments
The Krups XS3000 Cleaning Tablets does not descale. For descaling we recommend Eccellente Espresso Machine Descaler, which is also sold at Descaler.co.uk. You can also use Krups F054 descaling powder.
| | |
| --- | --- |
| Name | XS3000 Cleaning Tablets (10 pcs) |
| Brand | KRUPS |
| Article code | XS3000 |
| SKU | E-0022 |
| EAN | 8713411174490 |
| Safety Sheet | https://issuu.com/everlake/docs/e-0022-krups-cleaning-tablets-xs300_af6f22a74d229c |
| Previous product numbers | E-0022 - E0022 - XS3000 - XS.3000 - XS-3000 - F0550010 - F-055 - F055 - F.055 - F-0550010 - F.0550010 - F055-0010 - F.055.0010 - F-055-0010 |
| Condition | New |
4.45

stars based on

18

reviews
I have a second Krups coffee machine and had no problem with these tablets in my first machine ,now in my second machine they jam in the tube and do not dissolve they have to be poked down the tube with a spoon handle or they don't dissolve
Door
David Harrison
op 21-04-2023
Great price, straightforward ordering and 3 days for standard no extra cost delivery which was good.
Door
ANDREW
op 12-12-2022
The cleaning tables work well and last a long time unused as don't have to use them as often as the descaling powder, I tend to purchase 1 box of tablets too 4 boxes of the powder
Door
Terence
op 28-05-2022
Good purchase - I am pleased with the recent cleaning tablets. They are easy to remove fron the packet and stay whole. Previous ones disintegrated when opened and broke up and couldnt be used and had to be discarded. '
Door
Marjie B
op 07-11-2018
Not used yet - Have given only 3 stars as I have not yet used this but wanted to have it foe when I need it. <br>
Door
Mells
op 23-07-2018
Great Tablets for Krups Coffee Machine - Good value for the real deal. Thanks.
Door
SamB
op 22-05-2018
Great service - I haven;t used the tablets yet however I would recommend Descaler UK as a company as I ordered the product one day the following day it turned up. great service keep up the good work.<br>Thank you
Door
Tez
op 11-04-2018
Well done! - The right product delivered on time. Well done, Descaler!
Door
Andrew S
op 08-03-2018
Brill - This product works very well so pleased with it
Door
Jo
op 16-02-2018
Good product that does the job well - The product was good value for money as its was more expensive elsewhere
Door
MON'
op 01-02-2018
Quality product and service - The product is of high quality, the service fast and efficient. Website easy to navigate. Will definitely use again.
Door
davisz
op 10-11-2017
Had crumbled to powder - Have used 16 months after purchase, and found that they have to varying degrees crumbled into a cake of powder, and no longer worked as intended for my machine. No damage or seals broken. Have been told they have no shelf life or expiry, so will conclude poor product. Not sure you really have much alternative option though.
Door
Greg
op 06-10-2017
Excellent service; good product, good price - Nothing else to say - the title says it all!
Door
mx8man
op 28-09-2017
Excellent value - Good quality and service as always
Door
IGF
op 17-05-2017
Just the job - Bought this as recommended by Krups for my Bean to Cup coffee machine. Does just what it says it does so no hesitation in recommending these tablets for any Krups machine or other coffee machine for that matter.
Door
Ginny
op 14-04-2017
Excellent all round - Service, price, speedy delivery: all tip top. Will definitely buy from here again.
Door
Baggershoppinh
op 21-02-2017
Nice - Nice
Door
Nice
op 28-11-2016
Efficient packing - Like the packing of this product very much. Small tablets but great in cleaning of the Krups espresso machine!
Door
Product reviewer - Descaler UK
op 16-11-2015