KRUPS F054 Descaling Anti-Calc Powder (2 pcs)
ECCELLENTE
You save 57%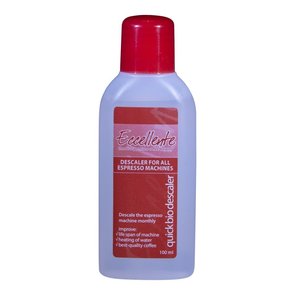 View
Product Information
Contents
2 sachets of Krups F054 Descaling Anti-Calc Powder, 40 grams each
Gives you 2 descaling doses. 
Plus a free test strip with which you can measure the water's hardness.
Description
Descale your Krups espresso or coffee machine when it indicates descaling is necessary. Your warrantee may no longer be valid when you do not descale at the indicated time.
Instructions
The amount of limescale accumulation depends on the hardness of the water used. When it is time to descale, the Krups coffee machine will warn you by displaying a warning message.
In order to run the descaling programme, you will need a container with a contents of at least 0.6 litres and a sachet of  Krups F054 Descaling Anti-Calc Powder. Add the descaling powder to the water reservoir.
When the message "descaling necessary" is displayed, you can start the automatic cleaning programme by pushing the 'PROG' button. Follow the instruction on the display and make sure the contents of the sachet is completely dissolved.
The descaling cycle has 3 stages: the actual descaling cycle, followed by 2 rinse cycles.
Comments
Krups states the following in their manual:
"Damages caused by limescale are not covered by the warrantee." So make sure to descale the machine regularly.
Suitable for all Krups machines, Dolce Gusto, Coffee Makers and other Espresso machines.
| | |
| --- | --- |
| Name | F054 Descaling Anti-Calc Powder (2 pcs) |
| Brand | KRUPS |
| Article code | F054 |
| SKU | E-0019 |
| EAN | 0010942117339 |
| Safety Sheet | https://issuu.com/everlake/docs/e-0019-krups-f054_5ce0548340cdf3 |
| Previous product numbers | E-0019 - E0019 - F054 - F-054 - F.054 - YX-103401 - F054001B - YX.103401 - F-054.001.B - F054.001B |
| Condition | New |
4.8

stars based on

28

reviews
Excellent service, great product thank you
Door
Andrew
op 02-04-2023
Always buy from descaler.co.uk. Top quality
Door
Ram
op 06-02-2023
Ordering was straight forward, delivery was about 3 days I selected standard delivery and the cost for the offical products was cheaper than I had paid previously.
Door
ANDREW
op 12-12-2022
The descaling powder works well
Door
Terence
op 28-05-2022
Almost 5 star! - We use these as we have a Krups bean to cup coffee machine and live in a hard water area. Generally they work well and last about a month but every now and then we get a duffer! Unfortunately the machine throws a wobbly and all sorts of things start going wrong. Last month it kept turning itself off and on randomly and narrowly missed being hurled out onto the lawn! We tried a new filter although we had only just changed it and it fixed the problem. Bit of a waste at that price though!
Door
Flossie
op 19-12-2020
Does the job - I have only really used this descaler and it seems to do the job well enough. Price is reasonable too. I use it every 2-3 months based upon a once daily use of our coffee machine to make 2 large lattes.
Door
Steppy
op 23-11-2020
Krupps descaler - Have used this since buying the machine, works well
Door
Trinnie
op 29-04-2019
Just the job - I always order from this company, they are great to deal with.<br>The ordering process is easy and delivery time is always prompt! You have my vote!<br>Thank you.
Door
Mistyblue
op 16-03-2019
Just the job - These are original products and the company is a pleasure to deal with and fast delivery
Door
Mistyblue
op 16-03-2019
Anti-calc powder - I bought the Krups F054 Descaling Anti-Calc Powder from Descaler UK as they gave me the best deal on price and the service is excellent order one day the product is with you within a couple of days. the product is recommended by Kurps for my coffee machine.
Door
Tez
op 31-01-2019
Excellent did thorough job - Im very happy with the anti-calc powder. Easy to use, dissolved easily no lumps. Great price. I always buy my coffee machine products from Descaler.'
Door
Margie B
op 07-11-2018
Excellent Service - I am a repeat buyer from Descaler UK for several years now. I find that their price, value and service are all 5 out 5. <br><br>By comparison, review the Krups site and it costs a lot more!<br><br>Keep up the good work please!
Door
Charanpal
op 24-09-2018
Descaling Powder - Clear the limescale from my machine without leaving any after taste as its citric acid'
Door
Jack
op 28-08-2018
Not used yet - I havent used this yet so cannot really give a proper review'
Door
Mells
op 23-07-2018
Service - I havent used the product as of yet however I would recommend Descaler UK as a company. I orders the product on one day the following day it turned up great service <br>Thank You '
Door
Tez
op 11-04-2018
A good product that worked well - Product was more expensive when I tried to source it elsewhere so happy with the price paid
Door
MON'
op 01-02-2018
Excellent - Very good service, fast delivery and cheaper than anywhere else. Will continue to use descaler.
Door
Hediye
op 05-12-2017
Great product - Descaler worked a treat! I followed the instructions and the next time we used our Dolce Gusto machine we enjoyed hot coffee. Thank you.
Door
Coffeelass
op 21-11-2017
Descaler - I was pleasantly surprised at the quickness of processing and posting of my order for your descaler which I have found to be the best product to use on my Dolce Gusto coffee maker. I also love the price of this product. Will reorder once I have used my current supply up.
Door
Lelly
op 19-10-2017
Excellent service; good product, decent price - Summary says it all !!
Door
mx8man
op 28-09-2017
Excellent value - Good quality and service as always
Door
IGF
op 17-05-2017
Good stuff - Bought this product for my Krups bean to cup machine and it does exactly what it says it does. I also use it in a hot water dispenser which is tricky to descale at the best of times. Its easy to use, effective and hasn't got a horrid chemical smell or after taste. '
Door
Ginny
op 14-04-2017
Good Product, Price, Delivery - Good company to use with competative pricing and good delivery
Door
M
op 11-04-2017
Excellent. Just buy from here - Speedy service, great product, reliable, great price. Will definitely buy from here again. Thank you.
Door
Baggershopping
op 21-02-2017
Excellent - Excellent
Door
Trainman
op 22-03-2016
Krups EA9010 - Good product. Delivery was delayed a little, but didnt cause me a problem. Will order again from descaler'
Door
Charanpal
op 26-02-2016
Excellent - Good product - great service with fast delivery
Door
ACA
op 18-02-2016
Cheap descaler for Krups - Good price / quality. Two times descaling of Nepsresso, Krups, and other machines.
Door
Product reviewer - Descaler UK
op 30-10-2015