KRUPS F055 Cleaning Tablets (10 pcs)
ECCELLENTE
You save 42%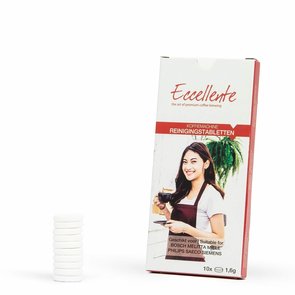 View
Product Information
Comment: The Krups F055 Cleaning Tablets are replaced by the Krups XS3000 Cleaning Tablets.
Contents
10 Krups F055 Cleaning Tablets, 2.3 grams each
Gives you 10 cleaning doses.
Description
The Krups F055 Cleaning Tablets will clean all the residues and blockages caused by the oils in the coffee. The cleaning is especially important when your machine uses espresso beans (bean-to-cup machine). Regular maintenance will prolong the durability of your machine and ensures a continuous high quality coffee.
Instructions
You will be informed, when to start the cleaning programme, by warning lights or messages on the digital display. A message on the display informs you when you need to start the machine's cleaning programme. A cleaning will be necessary after every 360 coffees or so. In order to run the cleaning programme, you will need a container with a contents of at least 0,6 litres, which needs to be placed under the coffee outlet, and also a KRUPS cleaning tablet. The automatic cleaning programme has three stages: A cleaning cycle and two rinse cycles. The programme takes about 20 minutes.
Step 1. Place a container of at least 0,6 litres.
Step 2. When the message << Cleaning necessary >> is displayed, push the programme button to display the cleaning menu.
Step 3. To start the cleaning programme you choose the 'begin' option and confirm it with the OK button. Then follow the instructions on the display. A message tells you to open the << lid >>. Open the maintenance lid and place the Krups F055 Cleaning Tablets in the allocated slot.
A message will be displayed when the programme has finished
Comments
The Krups F055 Cleaning Tablets does not descale. For descaling we recommend Eccellente Espresso Machine Descaler, which is also sold at Descaler.co.uk. You can also use Krups F054 descaling powder.
| | |
| --- | --- |
| Name | F055 Cleaning Tablets (10 pcs) |
| Brand | KRUPS |
| Article code | F055 |
| SKU | E-0021 |
| EAN | 0010942117339 |
4.5

stars based on

2

reviews
Perfect for the job - I have always used this product since purchasing a Krups 'bean to cup' coffee machine some years ago now. It is a first class product, so too, is the service provided by Descaler.
Door
Toots
op 03-12-2020