JURA Water Filter Claris Blue - Value Pack
ECCELLENTE
You save 36%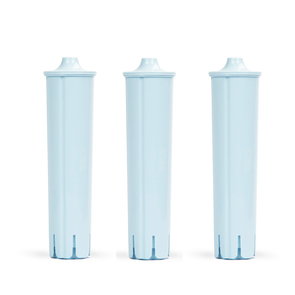 View
Product Information
Contents
3 Jura Claris BLUE water filters.
Filters the water for 6 months.
This water filter also goes under the name Jura Filter cartridge CLEARYL Blue.
Description
Jura Claris Blue Water Filters are suitable for the following Jura coffee machines:
• ENA-serie (Ena 5, Ena 7, Ena 9 One Touch)
• ENA micro-serie ( Ena micro 1, 5, 9)
• Giga serie (Giga 5)
• Impressa  C-serie (C50, C55, C9/90 New Generation)
• Impressa F-serie (F8, F85, F50 New Generation)
• Impressa J-serie (J7, J9.2, J9.3, J9.4, J90, J95, J500)
• Impressa Z-serie (Z7, Z9)
• Jura A serie (A1, A5, A7, A9)
The other Jura espresso machines use the Jura Claris White water filter.
This water filter has been specially developed for Jura coffee machines, is pH-neutral to coffee and is placed directly in the water reservoir. This will give you three important benefits: The guarantee that the coffee is made with freshly filtered water just before brewing. Fresh water and pure flavours will ensure the ultimate coffee experience. Protection for your machine. Jura's CLARIS Blue water filter is tough on lime scale but kind to your machine.
Instructions
Using a CLARIS water filter cartridges is simple. You will find a description in chapter 2 of your manual >> preparation and introduction – Filter placement and activation <<.
Comments
After 50 litres has flowed through the filter or after two months, the filter will stop functioning properly and the cartridge will need to be replaced.
| | |
| --- | --- |
| Name | Water Filter Claris Blue - Value Pack |
| Brand | JURA |
| Article code | 71312 |
| SKU | E-0601 |
| EAN | 7610917713127 |
| Previous product numbers | E-0500 - E0500 - 71312 |
| Condition | New |
4.5

stars based on

2

reviews
Jura water filter - I always use Jura Claris Blue a Water Filter in my coffee machine, great product. First class service from a Descaler as usual
Door
Danny
op 09-08-2019
Genuine Product - Good service and price. A genuine manufacturers product but they are expensive and I wonder if I should try Descaler's own product. The trouble is that with our Jura coffee machine you can't easily tell how well the filter works and after 10 years of using it I've never tried an alternative to the Claris filter, which so far have worked very well as no scaling has occurred.'
Door
NCV
op 30-07-2019