DELONGHI Coffee Machine Descaler (500 ml)
ECCELLENTE
You save 19%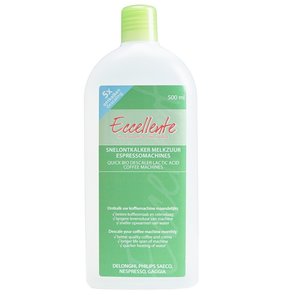 View
Product Information
Contents
Bottle of 500ml Delonghi EcoDecalk descaler
Gives you 5 descaling doses.
Description
Limescale accumulation in your coffee machine will adversely affect both the quality of the coffee and the durability of the machine. Why is this? It is because of limescale. Limescale build-up means that the coffee takes longer to produce, as the heat transfer to the water is affected. This reduces the quality of your espresso. The limescale will continue to build-up and thickening before eventually becoming a blockage that can damage your machine.
De'Longhi advises you to use De'Longhi EcoDecalk descaler for the De'Longhi espresso and coffee machines.
De'Longhi Ecodecalk descaler:
• Is highly effective at removing limescale and will not damage your machine.
• Will ensure the ideal flavour of your coffee whilst increasing the durability of your machine.
• Is cleansing and anti-bacterial.
• Is completely biodegradable.
• Is not corrosive or abrasive.
• Is simple and easy to use.
Instructions
Step 1. Pour 1 dose (100 ml) of De'Longhi EcoDecalk descaler into the water reservoir.
Step 2. Add one litre of water to the reservoir and stir the De'Longhi descaler / water solution.
Step 3. Follow the directions in the manual of your De'Longhi coffee machine.
Step 4. After descaling, wash the water reservoir with clean tap water and rinse your machine.
Using this product significantly reduces the likelihood of premature breakdown from scale build-up.
Does your descaling light stay on after a descaling cycle? Read this blog for the solution! https://www.descaler.co.uk/blogs/how-to/the-delonghi-magnifica-s-descaling-light-stays-on/
| | |
| --- | --- |
| Name | Coffee Machine Descaler (500 ml) |
| Brand | DELONGHI |
| Article code | SER3018 |
| SKU | E-0171 |
| EAN | 8004399326217 |
| Safety Sheet | https://issuu.com/everlake/docs/e-0171-e-0047-delonghi-ecodecalk-delonghi-mini_wad |
| Previous product numbers | E-0171 - E0171 - SER3018 - 5513296041 - 5513291781 - SER1051 - SER-1051 - 5513292801 - 5513296051 - SER.3018 - SER.1051 - SER-3018 - DLSC500 - 169992, 23-0008, 2790079151, 350830, 361475605, 3845, 5461530, 5513291781, 5513296041, 551391781, 6186269, 6521 |
| Condition | New |
4.95

stars based on

50

reviews
Good - Happy with product, price and service.
Door
Anon
op 02-07-2019
Good product good price and good service - Good product and excellent supplier
Door
Mike
op 19-01-2019
Excellent - Top product with top customer service and speedy delivery
Door
Baxter
op 18-01-2019
Fast and efficient - Always very fast and efficient service - keeps our coffee machines running!<br>
Door
Coffeholic
op 05-01-2019
Essential product - It exceeded my expectations, clear instructions and simple to use. Keeps my coffee machine fresh. Looks after the machine and the machine will produce excellent coffee
Door
Coffee Mad
op 29-12-2018
Very please with product - Arrived quickly and very satisfied with the product
Door
Jan
op 22-12-2018
descaler branded - exactly as expected and recd next day <br>would recommend & use them again
Door
Bearded Wonder
op 18-12-2018
Excellent Service - I have used the product for several years and have been very pleased with the results. My last order involved a phone call to the sales dept and I was delighted with the professionalism of the gentleman I spoke to.
Door
John
op 06-12-2018
Brilliant! - A great product specific descaler at a very competetive price. Good communication and speedy delivery. Totally recommended!
Door
Glenn
op 27-11-2018
excellent service - Excellent for my coffee machine
Door
paul
op 25-11-2018
10/10 - Great value for money and service.
Door
Vel Szot
op 22-11-2018
Good product.Excellent service - We have the hardest water in the country and with regular descaling the machine is going strong after 4 years.I transfer the water from the coffee m/c to my kettle and shower head -perfect.The web site easy to use,customer service is outstanding,and the product is reasonably priced
Door
Barry
op 15-11-2018
Used the chat to check I was about to buy the right product - An easy site to use I was looking to replace the free sample that came with the machine. Was unsure the exact product I required, used the online chat to guide me right. Placed order, forgot about it and it appeared quickly. Really pleased with the buying process.
Door
INVADE
op 08-11-2018
Does exactly what it says it will. - I have used the descaler on my DeLonghi coffee machine and it worked very well. The instructions were clear and easy to follow and I shall continue to use this product.
Door
Sandab
op 05-11-2018
Great price and delivery - Great price and delivery from you. Thank you.
Door
Dante
op 24-10-2018
•Descaler suitable for DeLonghi coffee machines. ' - Delivery and packaging excellent, also quick, price good, have used the product with good result more than pleased.
Door
John W
op 24-10-2018
Excellent - Works very well on my Delonhi Magnificat bean to cup coffee machine
Door
Alvis
op 13-10-2018
Correct descaler! - Does what it says on the bottle! New machine and the water is filtered at the tap.<br>Have never seen any scale come out, but I do not want to lose my warranty.<br><br>These guys are great, super fast delivery, next day I think.<br>Thank You.
Door
PaulJetFighter
op 01-10-2018
Does the job - Works well and it's great value now it's available in big bottles. descales well and leaves our machine clean
Door
Clario
op 19-09-2018
Does the job - Works well and it's great value now it's available in big bottles. descales well and leaves our machine clean
Door
Clario
op 19-09-2018
Great - Everything fine and on time
Door
Jasiunk
op 09-09-2018
Great stuff - Been using this since bought machine. Works well and machine working well after 7 years
Door
Sandy
op 04-09-2018
descaler review - This product arrived promptly and did the job as described
Door
Irene
op 29-08-2018
It works! - Product is simple to use, is effective and complies with guarantee requirement for a DeLonghi coffee machine - perfect!
Door
Mr Fantastic
op 10-08-2018
Brilliant! - The descaler arrived the morning after I ordered it! Fantastic! It works well.
Door
suziecat
op 02-08-2018
Very good! - Both of these product are very good and do great job with my Delonghi coffee machine.<br><br>Strongly recomended!
Door
Kate
op 24-06-2018
Excellent supplier - I found your website when looking for Descaler. Your service was excellent I will be using service again
Door
Alan Hickling
op 13-04-2018
Excellent - Arrived in excellent packing in no time will buy from you again
Door
Silv
op 11-04-2018
Excellent product. - I always use this brand of descaler as recommended by the coffee machine manufacturer. Supplied for a good price. Swift delivery and a discount code for my next purchase. What more could I ask.
Door
Coffeeholic
op 27-02-2018
Excellent Service - I buy 2 bottles once a year (to minimise delivery costs) Much better option than the smaller packs. The service from Descaler UK is excellent I would not hesitate recommending this company.
Door
Mr Coffee Drinker
op 19-02-2018
excellent product - really really works, always use
Door
richard f
op 17-02-2018
Perfect fit - Works perfectly woth my coffee machine
Door
Afedor
op 04-01-2018
Simply the best. - Excellent product delivered quickly at a reasonable price.
Door
Paul
op 13-12-2017
Descaler - Very pleased with product thankyou.
Door
Genie
op 12-12-2017
De scaler for coffee machine - This is the second time I have used this company the service was excellent. I would not hesitate to recommend this company to anyone.<br>
Door
Ken
op 12-12-2017
Excellent - Used this for several years. <br>Descaler.co.uk offer a great service at a good price.
Door
CoffeeBob
op 11-12-2017
Good - Very good
Door
Reading
op 29-11-2017
Excellent product - Excellent product. Bought from Descaler.co.uk at a good price and delivered next day. Great service
Door
DW
op 10-11-2017
Value for money - My coffee machine is my life, it gets used regularly, so i need to use descaler often, I kept buying the full kit not needing the other contents as regular as the descaler, the 500ml was a great find and saves me £, bonus discount codes sent with my orders
Door
Jojo
op 30-10-2017
AOK - Just what I wanted, promptly delivered. Ive bookmarked your home page for the next time.'
Door
Mark
op 11-09-2017
Excellent Product - Ive bought this Descaler many times from this company since investing in a delonghi bean to cup machine. Excellent price, swift delivery, I wouldn't go anywhere else to keep my machine in perfect condition, which in turn keeps my coffee tasting amazing'
Door
Angela D
op 07-09-2017
Ecell - Excellent product worked extremely well.
Door
Pilgrim
op 03-09-2017
Best price - Best price I could find, and the product is ideal for the job. I also used it to descale a kettle, which came out looking new.
Door
MJF
op 01-08-2017
Excellent - Great product and excellent service
Door
Jph
op 28-07-2017
Excellent - Brilliant service order arrived when they said, product was as expected, cant fault the service, will use you again.'
Door
Paul g
op 31-05-2017
Coffee machine descaler - Excellent product, have used before but this is the best price.<br>and next day delivery simply amazing.<br>Will definitely use this company from now on.
Door
Gerry
op 21-05-2017
Delonghi descaler' - Excellent value and delivery. Will definitely buy again
Door
Andrew
op 02-01-2017
Good product - A good product which works well.
Door
Soo
op 22-07-2016
Great price - Delonghi descaler at this price is a top buy. Keeps Delonghi bean to cup machine in top condition
Door
Nikki
op 25-03-2016
5 times descaling - The Delonghi Liquid descaler EcoDecalk has enough in a bottle for 5 times descaling. Good product and handy bottle!
Door
Product reviewer - Descaler
op 02-12-2015