PHILIPS SAECO AquaClean Water Filter
ECCELLENTE
You save 35%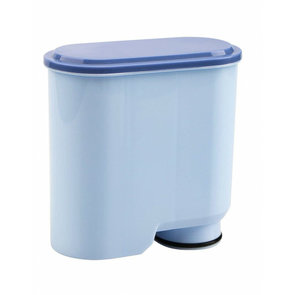 View
Product Information
Contents
1 Philips Saeco Gaggia AquaClean Water Filter.
Filters the water for 3 months.
Description
With each Philips Saeco AquaClean water filter, you can enjoy up to 625 cups! With Saeco's patented AquaClean water filter you don't have to descale your espresso machine for up to 5000 cups
Forget about descaling for up to 5000 cups
• Naturally removes calcium thanks to ion-exchange technology
• Your coffee machine will not clog thanks to the microporous filter
Pure water delivers the purest coffee
• Clear water optimally purified by the patented water flow
• Micro-porous filter blocks any impurities
Easy to install and use
• Effortlessly activate the filter with the click&go system
• Activating Saeco AquaClean deactivates the descaling alarm
Clear water optimally purified
Thanks to the patented flow, the water inside the water filter take a longer path before entering your super-automatic coffee machine. This ensures a deeper purification for clear water and fine tasting coffee.
Descaling alarm deactivatedAct
The Saeco AquaClean water filter ensures only pure and filtered water flows into your Full Automatic coffee machine, so the descaling alarm is automatically deactivated. Endless, hassle-free coffee of the finest quality is yours to enjoy - and it's not until after 8 filter replacements that the machine will reactivate the descaling process alarm. 
Micro-porous filter
Ridding your brew of any small particles makes a huge difference to your in-cup quality. The micro-porous water filter prevents impurities from contaminating the water, so every cup you make will be fresh, clean and delicious.
Click&Go system
Such an enduring feature could not be quicker to install. Just plug your AquaClean filter in the water tank of your Saeco super-automatic espresso machine, activate it via the user interface, and you are ready to enjoy up to 5000 pure coffee cups without descaling. It's not until after 8 filter replacements that the machine will reactivate the descaling process alarm. Machines equipped with AquaClean have a sticker on the water tank.
Ion-exchange Technology
The ion-exchange technology removes calcium from the water before entering your coffee machine, thus preventing its formation. If the filter is replaced timely at machine request, you can enjoy up to 625 cups with each filter
Suitable for the following Philips Saeco coffee machines:

Incanto Series
Saeco Incanto HD8911/01 | HD8913/11 | HD8914/01 | HD8915/01 | HD8916/01 | HD8917/01 | HD8918/21 | HD8918/31 | HD8918/41 | HD8919/51 | HD8919/55 | HD8921/01 | HD8922/01

Intelia Deluxe Series
Saeco Intelia Deluxe HD8900/01 | HD8900/11 | HD8902/01 | HD8904/01 | HD8906/01

Pico Baristo Series
Saeco PicoBaristo HD8924/01 | HD8925/01 | HD8927/01 | SM3054/00 | SM3054/10 | SM3061/10 | SM5460/10 | SM5470/10 | SM5473/10 | SM5478/10 | SM5479/10 | SM5570/10 | SM5572/10 | SM5573/10

GranBaristo Series
Saeco GranBaristo HD8975/01 | HD8977/01 | HD8978/01

Exprelia Series
Saeco Exprelia HD8858/01 | HD8859/01
Philips 2200 Series
EP2230/10 | EP2200/10

Xelsis Series
Saeco Xelsis SM7580/00 | SM7581/00 | SM7680/00 | SM7683/00 | SM7685/00 | SM7686/00

Philips 3100 Series
EP3360/00 | EP3362/00 | EP3363/00 | EP3510/00 | EP3550/00 | EP3551/00 | EP3551/10
Philips 3200 Series
EP3246

Philips 4000 Series
EP4010/00 | EP4050/10 | EP4051/10

Philips 5000 Series
EP5310/10 | EP5314/10 | EP5315/10 | EP5330/10 | EP5331/10 | EP5333/10 | EP5335/10 | EP5340/10 | EP5345/10 | EP5360/10 | EP5361/10 | EP5363/10 | EP5365/10 | EP5930/10 | EP5934/10 | EP5960/10 | EP5961/10 
For all other machines: use a Philips Saeco Intenza Water Filter
Instructions
1) Remove the Philips Saeco AquaClean filter from its packaging. Shake the water filter for about 5 seconds.
2) Immerse the Aqua Clean filter upside down in a jug with cold water and wait until no more air bubbles come out.
3) Remove the water tank from the machine and insert the filter vertically onto the filter connection. Press it down until it cannot move further.
4) Fill the water tank with fresh clean water and place it back into the machine.
5) Use the provided sticker to write down the date of the AquaClean water filter activation. Place the sticker on the water tank.
6) If the machine has a display make sure you activate the AquaClean water filter in the machine menu. Follow the user instructions provided with the machine. 
7) To rinse the AquaClean filter, let half a litre of water flow out from the dispensing spout or steam tube of espresso machine. Discard this water.
The Philips Saeco AquaClean water filter and machine are now ready for use.
Comment
If your hardness of water is higher than ± 7º German Hardness, a water filter is highly recommended. You will prevent the chance of damage by lime scale and have better-tasting coffee.
| | |
| --- | --- |
| Name | AquaClean Water Filter |
| Brand | PHILIPS SAECO |
| Article code | CA6903/10 |
| SKU | E-0387 |
| EAN | 8710103833338 |
| Previous product numbers | CA6903 - CA6903/10 - CA6903/00 - E-0387 - E0387 - CA6903/00 - CA6903 - CA6903/10 - CA690300 - CA690310 - CA-6903 - CA-6903/00 - CA-690300 - CA6903/01 - CA690301 - CA-6903/01 |
| Condition | New |