LAVAZZA Intenza Water Filter
ECCELLENTE
You save 20%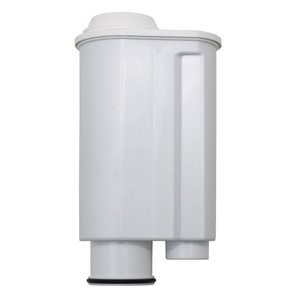 View
Product Information
Contents
1 Philips Saeco Intenza Water Filter 
This filter needs to be replaced after every 50 litres or every two months, whichever comes soonest.
Description
The active carbons in this Saeco Water Filter reduce the substances influencing the taste and smell of the water (organic compounds, chlorine, etc.), while a special macro-porous filter, used in the cartridge, gives you perfect filtration, by removing micro particles from the water.
Suitable for: Philips Saeco Intuita, Philips Saeco Intuita, Philips Saeco Minuto, Philips Saeco Moltio, Philips Saeco 4000 series, Philips Saeco Xelsis Evo, Philips Saeco GranBaristo, Philips Saeco Xsmall, Philips Saeco 2000 series, Philips Saeco Intelia, Intelia Evo, Philips Saeco 3100 series, Philips Saeco Exprelia, Philips Saeco Xelsis Evo, Saeco Lirika, Philips Saeco 3000 series, Philips Saeco Odea, Philips Saeco Talia, Philips Saeco Royal, A modo mio Lavazza, Exprelia, Intellia, Nina manual, Odea, Poemia Manual, Primea, Royal Old en 2011, Syntia (alle modellen), Talea (alle modellen), Xeasy 2011, Xelsis, Xsmall, Gaggia Accademia, Gaggia Unica, Gaggia Platinum, Gaggia Brera, Spidem My Coffee.
Not suitable for: "Intelia Deluxe" These uses the Saeco AquaClean water filter
Instructions
Step 1. Remove the water reservoir, discard any water in there and check if the reservoir is clean.
Step 2. Set the 'Aroma System' to 'A', 'B' or 'C' on the water filter to ensure the correct filtration of the water.
Step 3. Submerge the Intenza water filter for a few seconds in a container of water. This saturates the Intenza water filter and disperses any air bubbles.
Step 4. Place the Intenza water filter in the reservoir. Push it all the way in with a slightly rotating motion.
Step 5. Fill the water reservoir with clean tap water and place it back in the machine.
Step 6. Let a few cups of water flow through the steam pipe before you start using the machine.
Comments
If your hardness of water is higher than ± 7º German Hardness, a water-filter is highly recommended. You will prevent the chance of damage by lime scale and have better tasting coffee.
| | |
| --- | --- |
| Name | Intenza Water Filter |
| Brand | LAVAZZA |
| Article code | CA-6702/00 | CA-6702 | CA6702 |
| SKU | E-0495 |
| EAN | 8710103563365 |
| Previous product numbers | CA-6702/00 - CA-6702 - CA6702 - E-0495 - E0495 - CA6702/10 - CA-6702/00 - CA-6702 - CA6702 - 338946894 996530010474 - 99653007187 - 21001020 - RI9113/60 - RI911336 - 21001419 - 21001405 - 21002660 |
| Condition | New |