WMF Cleaning Tablets (20 pcs)
ECCELLENTE
You save 60%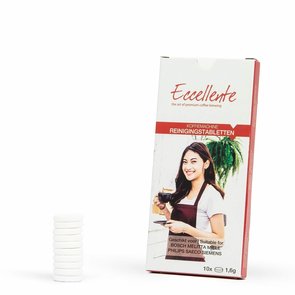 View
Product Information
Contents 
Twenty WMF Cleaning tablets for WMF coffee machines.
Each tablet is 1,3 grams and the full package gives you 20 cleaning doses.
Description
The WMF cleaning tablets are an excellent product for cleaning your espresso machine thoroughly from any coffee residues. Any fats and oil that is originating from coffee will be cleaned up. Coffee residues can create blockages in the pipes and conduits of your espresso machine. When your machine uses beans, it is very important to use cleaning tablets on a regular. Using cleaning tablets will also improve the overall taste and flavour of your coffee. The crema layer will also be more beautiful than before. Besides, cleaning tablets are good for your espresso machine in general. The lifespan will be increased, and the machine will use less energy.
For the best results and a perfect functioning coffee machine, our experts advise to clean your machine every two weeks or after 250 coffees.
Each cleaning tablet contains a yellow sponge that goes into the coffee machine as well. This yellow sponge helps cleaning the machine. After the cleaning is done the yellow sponge will fall into the drip tray.
The WMF Cleaning tablets are suitable for the following coffee machines: 500, 800, 900, 1000, 1000 pro, 1200, 1400, 1500, 1800, 2000, 5000, 8000.
Instructions 
Empty the WMF espresso machine drip tray
Fill up the water reservoir
Place a bowl or cup under the coffee-dispenser. In the WMF manual is an advised size that the bowl or cup should be.
Place a cleaning tablet together with the yellow sponge in the manual insertion.
Start the cleaning process. This process will take around 6 minutes to complete. After the cleaning process is complete your espresso machine will be completely cleaned of any coffee residues.
Comments 
The WMF cleaning tablets do not descale. For descaling we recommend Eccellente Espresso Machine Descaler, which is also sold at Descaler UK. You can also use WMF Liquid Descaling.
| | |
| --- | --- |
| Name | Cleaning Tablets (20 pcs) |
| Brand | WMF |
| Article code | 1407029990 |
| SKU | E-0110 |
| EAN | 4000530612830 |
| Safety Sheet | https://issuu.com/everlake/docs/33_2332_4000_wmf_cleaning_tablets_1 |
| Previous product numbers | E-0110 - E0110 - 1407029990 - 14 0702 9990 - 14.0702.9990 |
| Condition | New |