BOSCH TASSIMO Descaling Tablets (4 pcs)
ECCELLENTE
You save 22%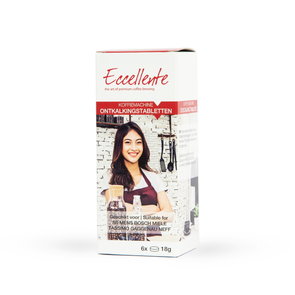 View
Product Information
Contents
4 Bosch Tassimo descaling tablets, 18 grams per descaling tablet.
Fully descale twice.
Description
The Tassimo machines have an automatic descaling programme. Regularly descaling your Tassimo coffee machine ensures a longer lifespan and correct function. The taste of your coffee, espresso, latte, cappuccino etc. will be improved when you descale. Regular descaling with Tassimo descaling tablets ensures that you get great tasting coffee every time.
Instructions - How to descale a Tassimo coffee machine
Step 1. The Tassimo machine has the red light showing, so it is time to descale.
Step 2. Fill the water tank with clean water and put two descaling tablets in the water.
Step 3. Remove the special yellow descaling t-disk from the side of the machine and put this in the cup container.
Step 4. Put an empty can of 500 ml on the drip tray.
Step 5. Put the filled water tank back in the Tassimo machine and push the burning lamp for 5 seconds.
Step 6. The Tassimo coffee machine start now automatically the descaling process. (it takes about 30 minutes)
Step 7. Rinse rinse the water tank and fill it again with water.
Step 8. Now hold the coffee button pressed so the machine can rinse, the machine rinsed 3 times.
Step 9. Remove again the descaling t-disk and place storage compartment back.
See full manual how to maintain a Bosch Tassimo
Comments
If you descale and clean your Tassimo coffee machine regularly, then you will be sure to get high-quality coffee. You should also clean the barcode scanner; do this with a soft, moist towel to make sure this functions correctly.
Art number: Tassimo Descaling Tablets TCZ6004 & 311530
This Tassimo descaler is suitable for all kinds of Bosch and Braun Tassimo coffee machines.
including the latest Tassimo machines, which are available in the United Kingdom: Tassimo VIVY (T12), Tassimo VIVY II (T12), Tassimo AMIA (T20), Tassimo FIDELIA (T40), Tassimo CHARMY (T55), Tassimo SUNY (T32), Tassimo Joy, Tassimo FIDELIA+ (T65), Tassimo CADDY (T70)
Product numbers: TCZ6004, 311530, 311909
| | |
| --- | --- |
| Name | Descaling Tablets (4 pcs) |
| Brand | BOSCH TASSIMO |
| Article code | 311530 |
| SKU | E-0222 |
| EAN | 4242002763217 |
| Safety Sheet | https://issuu.com/everlake/docs/e-0222-tassimo-ontkalkingstabletten_3c70ee6dd20f62 |
| Previous product numbers | E-0222 - E0222 - 311530 - 00311530 - 311909 - 00311909 |
| Condition | New |
4.7

stars based on

50

reviews
Excellent value for money - .
Door
George
op 16-12-2020
tassimo descaling - these were excellent did the job perfectly
Door
stropo
op 15-05-2018
Descaler for Bosch Tassimo Coffee machine - These descalers were difficult to source in the shops; found this company through an online search. Website easy to use, quick delivery that came with a discount voucher for next-time use. Excellent price and product works well, as expected. Im ordering again as my son has also used the descaler for his machine! '
Door
Alidee
op 10-04-2018
Easy use and efficient - The product does the job well simply and efficiently.<br><br>Service in supplying excellent
Door
Johnc
op 04-04-2018
Bosch descaling tassimo coffee machine - I found the descaling tablets a great product does exactly what it says.
Door
sue
op 18-03-2018
Good product - This product is the same as we have bought from Tassimo in the past but at less money.
Door
Vinny
op 12-03-2018
Tablets - I ordered the tablets and must say Im very happy with product.'
Door
Dee
op 12-03-2018
Best coffee in town - Descaling tablets arrived very quickly and now my Tassimo coffee machine is once again dispensing the best coffee in town. The Descaling tablets are very easy to use.
Door
John G.
op 07-03-2018
no problems - no problem descaling tablets for tassimo were fine
Door
johnno
op 03-03-2018
tablets have worked well, only difficulty was interpretation of Tassimo instructions - as in summay
Door
nodrog
op 08-02-2018
Bosch Tassimo Descaling Tablets - Perfect
Door
Fran
op 02-02-2018
Excellent delivery and customer service - Delivery and sevice excellent would order again
Door
Freddie
op 16-01-2018
Did not work for me - My Tassimo said it needed descaling, i followed the instructions to the letter and the light still remains, seems it did not work for me. |Delivery was good though hence the 2 stars.
Door
Sappy
op 05-01-2018
Does the job - Easy to use and effective.<br>Instructions for use would be useful. I had to use google to find out how to use.
Door
Reders
op 14-12-2017
Great - Works well! Keeps my very important coffee machine working well.
Door
Melbournemusician
op 12-12-2017
Tassimo descaling tablets - Bit of a hiccup with the delivery date due to mix up at source but the tablets do exactly what they say. Descaled first time and back enjoying my coffee again. Will certainly buy again thank you
Door
Papajones
op 11-12-2017
Excellent! - Brilliantly quick delivery, very easy transaction, product easy to use
Door
Susan
op 21-11-2017
Descaling tablets - The tablets cleared my Bosch coffee machine in one go and the red light has gone off again.
Door
Gosforthbelle
op 10-11-2017
EASY - Delivery great and product ideal for task. Easy.
Door
LuckyR
op 29-10-2017
Did not work - Tried twice but am still getting message that rescaling is needed.<br><br>Total waste of money.
Door
Judy short
op 28-10-2017
Perfect product - Read the instructions and everything is fine,pay attention to the quantity of water to be used in the reservoir.<br>Back to making delicious coffee.
Door
Sammy
op 26-10-2017
First class - Delivered super fast and did exactly as it said on the easy to follow instructions. Would definitely recommend.
Door
Jm
op 26-10-2017
Excellent - Thank you for all your help and advice concerning how to descale my Tassimo coffee machine. It was so easy & straight forward to use , and I learnt how to clean my machine as well.
Door
Rosie
op 20-10-2017
Descaler cleaning tablets - I was really pleased with the descalining tablets and would highly recommend them,I shall certainly be buying them again.
Door
Pearly
op 06-10-2017
Tassimo descaler tablets - These are the proper branded Tassimo descaler tablets. They are competitively priced, and delivery is quick. I can highly recommend descaler.co.uk.
Door
Gill
op 04-10-2017
Great product - Machine needed descaling so found this company on web who were selling genuine Bosch products at a very good price. The instruction were clear on what to do . Order was despatched quickly . and will use again when I need to order more descaling tabs/
Door
DELBOY
op 29-09-2017
Not worked - I have now used 4 tablets and the red light on my coffeemaker will not go out. what am I to do?
Door
FrankWade
op 12-09-2017
Easy peasy! - Prompt delivery with no hassle! Descaling tablets are so easy to use following the Bosch instructions, done in record time! Wish it was as easy for my Italian coffee machine which takes twice as long to descale as my Bosch Tassimo!
Door
littlewitch31
op 11-09-2017
Excellent quality - I am very pleased with your prduct and will definately recomend them to others
Door
Susie
op 05-09-2017
Excellent product - Excellent product does what it says on the box. Completely recommend
Door
Jenni
op 01-09-2017
Cleaning Tablets. - Probably should have cleaned the machine earlier but the tablets did the job and Im back on excellent coffee !'
Door
Ricky
op 01-09-2017
Did the job cheaper descaler couldnt.' - Bought this to descale my Tassimo after failing with cheaper alternative. Instructions clear and completed the job. Delivery also quick and I dont think the price was OTT.'
Door
Andrew
op 01-09-2017
Great product - Fast and efficient. Coffee is back on track.
Door
angie
op 30-08-2017
excellent customer service - Product is very good. Company provides excellent service. Product arrived very quickly as ordered.
Door
Linda
op 29-08-2017
Tasimo Descaler - Came next day and worked a treat. Will use again.
Door
Derek
op 24-08-2017
Descaler - Easy to use, instructions were clear and easy to follow and the drinks taste better since de scaling the machine
Door
HB
op 22-08-2017
Great - Good delivery and did a great job
Door
Ali
op 01-08-2017
Great product - So easy to use did a great job,would recommend
Door
collie
op 27-07-2017
Bosch Coffee Machine - I bought the descaling tablets as the red light had come on. They arrived very quickly and it was easy to carry out the process of descaling my coffee machine. All is working much better now. Thanks.
Door
J
op 19-06-2017
Very good - The descaling tablets were very easy to use . I am most satisfied. Thank you
Door
mavis smith
op 18-06-2017
Very good - Easy to use and the tablets do the job for which they were intended. No problem!
Door
Stewart
op 07-06-2017
Descaler tablets for bosch tassimo - Prompt delivery and followed the Tassimo instructions and worked well (second time used) excellent ...recommended
Door
Mg
op 05-03-2017
Excellent service - Quality product, great value, very fast delivery & extremely helpful. Full marks. Thankyou
Door
Gray
op 10-01-2017
Excellent product - works every time with clear descriptions on procedure on how to use. No problems. Fast and efficient service and delivery. - Excellent product. Fast and efficient service and delivery.
Door
Tove
op 08-01-2017
Brilliant - Used the Descaler using instructions .Coffee perfect again ! Brilliant
Door
Lou
op 13-12-2016
Fantastic product and service - Fantastic product machine working like new .easy to place order delivered next day highly recommend
Door
Dusty
op 14-09-2016
Excellent Service - Not in a position to comment on the product, although I have used it. How would I know if it has worked?<br>But I can add, the service from Descaler was excellent.
Door
Satisfied
op 31-08-2016
Great product, a must for your machine - I needed to descale my Tassimo machine and found Descaler.co.uk on line and ordered the tablets, which were cheaper than most of the other sites I went to. It was easy to order on line and the product came quickly in the post. I have used it and it worked brilliantly and the machine is back to normal, thanks to Descaler.co.uk. Highly recommend this site.
Door
Hevris
op 19-04-2016
Easy to use - No difficulties with using this and if you follow the directions this will make a difference. I am sure it will prolong the life of the machine and for that reason its well worth using. You don't need to use it very often but it's worth having this pack which gives two opportunities.<br>'
Door
Rob
op 21-01-2016
Works just fine - Tassimo Descaler Tablets are very easy in use. Dont forget to use the yellow T-Disk.'
Door
Product reviewer - Descaler UK
op 30-10-2015