MELITTA AntiCalc Liquid for Espresso Machines (250ml)
ECCELLENTE
You save 72%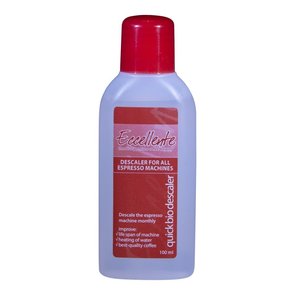 View
Product Information
Contents 
1x Melitta Anticalc Liquid for espresso machines (250ml)
Two times descaling a Melitta coffee machine
Description
This descaler from Melitta will ensure that all the build-up limescale in your coffee machine will be removed. The Anticalc liquid descaler from Melitta is easy to use and descales thoroughly and effectively, and provides optimal protection for your device. Because your machine has less limescale, it will continue to produce delicious coffee varieties and you will consume less energy.

Limescale is very harmful to your costly coffee machine. Limescale can greatly reduce the lifespan of your coffee machine. When limescale builds up in your coffee machine, the pipes of your coffee machine will narrow down. When this happens, your coffee machine needs more energy to heat up the water.
Melitta has developed this descaler to remove the persistent limescale. Our experts recommend to descale your Melitta coffee- or espresso machine every 4-6 weeks. Melitta AntiCalc Liquid descaler is suitable for: Caffeo Bistro, Melitta Purista, Caffeo Gourmet, Caffeo Solo, Caffeo Solo & Milk, Caffeo Lattea, Caffeo CI, Barista T, Melitta Barista, Melitta Varianza, Melitta Passione
Instructions 
1) Add 125ml Melitta descaler in the water tank of the Melitta coffee machine.
2) Add 375ml water to it.
3) Start the descaling program of the machine.
Comments
Descaling will not clean the machine from grease and other dirt. Use Melitta Perfect Clean tabs for that.
WARNING: In most cases, damage by limescale are not covered by the warrantee. So make sure to descale the machine regularly.
| | |
| --- | --- |
| Name | AntiCalc Liquid for Espresso Machines (250ml) |
| Brand | MELITTA |
| Article code | 6774190 |
| SKU | E-0157 |
| EAN | 4006508204663 |
| Safety Sheet | https://issuu.com/everlake/docs/e-0157-melitta-espressomachine-desc_2e17bd5c8114d1 |
| Previous product numbers | E-0157 - E0157 - 6638313 - 6762515 - 6747206 - 6774190 |
| Condition | New |
4.85

stars based on

6

reviews
Packaging broke in transit but excellent service from Descaler.
Door
David
op 26-04-2023
Machine manufacturer recommends this and the supplier has never let us down. Very happy.
Door
Phil
op 12-01-2023
As far as I can ascertain this has worked as the decalc light has gone out. I am not aware that it has made a difference to the quality of the coffee, hopefully it will benefit the machine as our water is on the hard side. I think that all these products are rather expensive especially when considering the fact that they have to be used throughout the life of the machine.
Door
April
op 13-02-2022
Best price - Best price on the Internet and fast delivery. Will be back.
Door
Jen
op 16-11-2020
Good service - Easy website to use, prompt delivery of item.
Door
Jo11
op 25-03-2018
Powerful descaler - The Liquid descaler is very strong and will clean the machine very good!
Door
Product reviewer Descaler UK
op 27-02-2016