JURA Water Filter Claris Blue
ECCELLENTE
You save 33%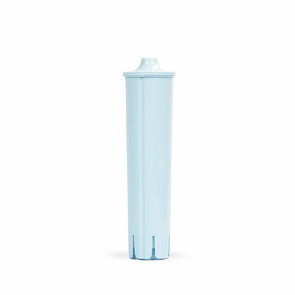 View
Product Information
Contents
1 Jura Claris Blue water filter
Filters the water for 2 months.
This water filter also goes under the name Jura Filter cartridge CLEARYL Blue.
Description
Jura Claris Blue Water Filters are suitable for the following Jura coffee machines:
• ENA-serie (Ena 5, Ena 7, Ena 9 One Touch)
• ENA micro-serie ( Ena micro 1, 5, 9)
• Giga serie (Giga 5)
• Impressa  C-serie (C50, C55, C9/90 New Generation)
• Impressa F-serie (F8, F85, F50 New Generation)
• Impressa J-serie (J7, J9.2, J9.3, J9.4, J90, J95, J500)
• Impressa Z-serie (Z7, Z9)
• Jura A serie (A1, A5, A7, A9)


The other Jura espresso machines use the Jura Claris Smart water filter.
This water filter has been specially developed for Jura coffee machines, is pH-neutral to coffee and is placed directly in the water reservoir. This will give you three important benefits: The guarantee that the coffee is made with freshly filtered water just before brewing. Fresh water and pure flavours will ensure the ultimate coffee experience. Protection for your machine. Jura's CLARIS Blue water filter is tough on lime scale but kind to your machine.
Instructions
Using a CLARIS water filter cartridges is simple. You will find a description in chapter 2 of your manual >> preparation and introduction – Filter placement and activation <<.
Comments
After 50 litres has flowed through the filter or after two months, the filter will stop functioning properly and the cartridge will need to be replaced.
The old type of filter (Jura Claris ENA) has been replaced by Claris BLUE.
| | |
| --- | --- |
| Name | Water Filter Claris Blue |
| Brand | JURA |
| Article code | 67007 |
| SKU | E-0600 |
| EAN | 7610917713110 |
| Previous product numbers | E-0100 - E0100 - 71311 - 67007 |
| Condition | New |
4.85

stars based on

7

reviews
excellent - arrived promptly and in good order
Door
Mike
op 21-02-2019
Happy - Very quick delivery and got a small present. Thank you very much!!!
Door
Santa
op 29-01-2019
good product - Good product sold by reliable seller. I used Descaler.co.uk several times to purchase cleaning products for my coffee maker. The products were always genuine and the delivery fast.
Door
Ewa
op 28-07-2018
Excellent service - This is an excellent product as well it should be, Jura is a top end coffee machine and it is from Descaler.co.uk that I go to purchase the required cleaning items. I would not buy from anyone else, for those of you out there that read these, my review is 100% honest, the price is always good, the service is second to none and the items are shipped very quickly, there isnt a better service. IU purchase from Descaler.co.uk when I used the Nespresso city, now I've upgraded to a Jura this company is still where I will buy my required coffee machine cleaning products.'
Door
rufax
op 16-04-2018
Jura Water Filter-Claris Blue - Very fast Service, Super efficient and good description of item on website, to enable the correct purchase!
Door
Pippa
op 02-03-2017
Fast service good product - Unbelievable fast service good product will buy again
Door
Jurgita
op 19-02-2016
Good filters but not cheap - We recommend to use the Eccellente Water Filter Blue for Jura instead.
Door
Product reviewer Descaler UK
op 21-01-2016