JURA 2-phase Descaling Tablets (36 pcs)
ECCELLENTE
You save 81%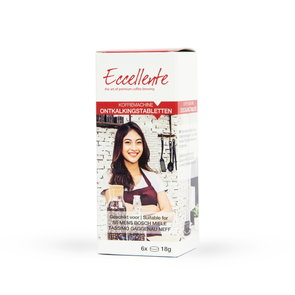 View
Product Information
Content
36 Jura descaling tablets
Gives you 12 descaling doses.
Description
Specially developed descaling tablets for Jura's fully automatic coffee machines which are sulfamic acid based, for a thorough removal of residue and limescale. The tablets' composition is exactly geared to the use in Jura's fully automatic coffee machines and guarantees a very efficient descaling without damaging the materials. Descaling will prolong the durability of your Jura coffee machine.
NEW: Descaling in 2 phases
The descaling tablet developed especially for JURA coffee machines has an optimised dissolving time, removes scale cleanly and efficiently and delivers lasting results.
The descaling operation now comprises two phases:
Phase one: Carefully removes all scale residue from the coffee machine.
Phase two: Seals the fluid system and ensures long-term corrosion protection for pipes and thermoblock.
Instructions
Step 1. Dissolve 3 Jura descaling tablets in a container with 500ml lukewarm water. 
Step 2. Start the descaling process as described in your manual.
Step 3. Pour the solution in the water reservoir at the correct time, stated in your manual.
Step 4. Continue with the directions in your manual.
Solution mixture: IMPRESSA C-, E-, F-, J-line, ENA: 0,5 l. All the other IMPRESSA machines: 0,6 l, SUBITO: 0,7 l, JAGUA S60: 0,4 l, JAGUA D70: 0,3 l.
Comments
The Jura descaling tablets will not clean coffee oils. For cleaning we recommend Jura cleaning tablets.
| | |
| --- | --- |
| Name | 2-phase Descaling Tablets (36 pcs) |
| Brand | JURA |
| Article code | 61848 |
| SKU | E-0442 |
| EAN | 7610917618484 |
| Safety Sheet | https://issuu.com/everlake/docs/uksdb-jura-entkalkungstabletten |
| Previous product numbers | E-0442 - E0442 - 70751 |
| Condition | New |