DELONGHI Genuine Water Filter for Espresso Coffee Maker DLS C002 SER3017 DLSC002
ECCELLENTE
You save 19%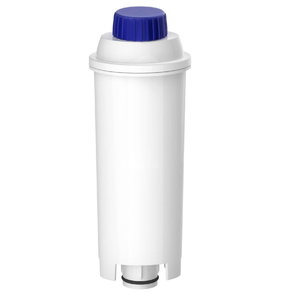 View
Product Information
Contents 
1 De'Longhi ECAM water filter.
This filter needs to be replaced after every 50 litres or every two months, whichever comes soonest.
Description
The De'Longhi ECAM water filter enables excellent flavour development to ensure a perfect coffee experience. It also increases the durability of your espresso machine by protecting it from limescale build-up. Using this filter reduces water pollutants like chlorine, lead, and copper.
The De'Longhi water filter has been developed especially for De'Longhi coffee machines of these types: BCO410; BCO420 EC850; EC860; ECAM series (ECAM21, ECAM22, ECAM23, ECAM24, ECAM25, ECAM26), EC685 E680, ECi series, Delonghi Dinamica series (350.55 B 350.15B) and the ETAM series (ETAM29.. ETAM36..). It will not fit the EAM or ESAM series.
Instructions
Step 1. Remove the water reservoir, discard any water and check that the reservoir is clean. 
Step 2. Place the Delonghi ECAM water filter in the reservoir. Push it all the way in with a slightly rotating motion. 
Step 3. Fill the water reservoir with clean drinking water and place it back in the machine. 
Step 4. Flush through the machine and discard the water.
Comments
If you live in a "hard-water area" then you will benefit the most from using a water filter. Hard water contains the most impurities that will quickly lead to limescale build-up that can damage your machine and reduce the quality of your coffee.
Previous product number: Delonghi SER 3017 SER3017 DLSC002
| | |
| --- | --- |
| Name | Genuine Water Filter for Espresso Coffee Maker DLS C002 SER3017 DLSC002 |
| Brand | DELONGHI |
| Article code | DLS C002 |
| SKU | E-0114 |
| EAN | 5045176370736 |
| Previous product numbers | E-0114 - E0114 - DLSC002 - SER3017 - 5513212441 - 5513292811 - DLSC-002 - SER-3017 - 5513292811 |
| Condition | New |