GAGGIA MILANO Brita Intenza+ Water Filter
ECCELLENTE
You save 34%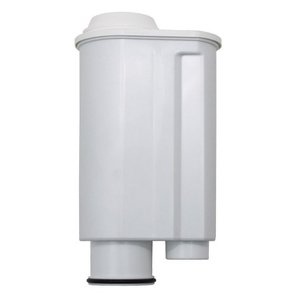 View
Product Information
Out of assortment, see our alternative: Eccellente Intenza+ Filter for Gaggia.
Contents
One Gaggia Brita Intenza+ water filter.
One Gaggia water filter can filter 50 litres of water. After the 50 litre of water the water filter needs to be replaced.
Description
The Gaggia Brita Intenza+ water filter is the perfect solution for limescale in your coffee machine. A water filter reduces chlorine, limescale and other organic contaminants. The use of a water filter reduces limescale build-up and the result of this is, a longer lifespan of your coffee machine. In addition to that, your coffee will also have a better crema layer and an overall better taste.
THE DIFFERENT POSITIONS
Soft water – A
Average water – B
Hard water – C
Suitable for: Gaggia Accademia, Gaggia Anima, Gaggia Brera, Gaggia Naviglio, Gaggia Platinum, Gaggia New Espresso, Gaggia New Baby, Gaggia Viva, Gaggia New Baby 06, Gaggia Espresso, Gran Gaggia, Gaggia Carezza
Instructions
1. Remove the water reservoir and throw the current water away. Check if the water reservoir is clean.
2. Put the "Aroma System" on 'A', 'B' or 'C' to select the correct filtration of the water.
3. Hold the water filter under water with the use of a bowl for a few seconds. This will make the water filter fill itself up with water.
4. Place the filter in the water reservoir. Push the water filter in the socket and give the water filter a small turn.
5. Fill up the water reservoir with fresh water and put the water reservoir back in the coffee machine. 6. First let a few cups of water run through the steam pipe before you use the machine again.
Comments
If your water hardness is higher than ± 7˚ German hardness, a water filter is definitely recommended.
| | |
| --- | --- |
| Name | Brita Intenza+ Water Filter |
| Brand | GAGGIA MILANO |
| Article code | 21001681 |
| SKU | E-0517 |
| EAN | 8012335000190 |
| Previous product numbers | E-0517 - E0517 - 21001419 - RI9113/60 - RI9113 - 21001711 - MAVEA |
| Condition | New |