SIEMENS EQ Series - Brita Intenza Water Filter Value Pack
ECCELLENTE
You save 33%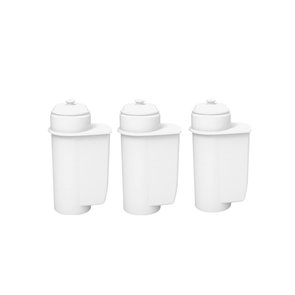 View
Product Information
Contents
3 Siemens EQ.series - Intenza water filters
Good for 6 months filtered water
Product number TZ70033A
Suitable for all Siemens EQ Series coffee and espresso machines
Description
Using a water filter significantly reduces the amount of lime scale that passes through your precious Siemens. In order for your machine to function better and longer, the use of a water filter is very important. Substances such as chlorine, lead and copper are reduced and the Siemens EQ water filter also offers protection against limescale. This gives your Siemens machine a longer life.
Our experts recommend the Siemens EQ series Intenza water filter if the water hardness is higher than ± 7˚ German Hardness. The higher the water hardness is in your area, the better you can use a water filter. You can set your water filter to a specific water hardness. Based on this, you can calculate when your Siemens EQ Intenza water filter needs replacement.
Capacity at the different levels
Soft water mode A : 50 litres (300 cups)
Medium water setting B: 40 litres (250 cups)
Hard water setting C: 30 litres (200 cups)
Instruction
1) Remove the water tank, discard the water present and check that the tank is clean.
2) Insert the Siemens Bosch Brita Intenza water filter into the tank. Press firmly to the end, making a slight turn.
3) Fill the water tank with fresh drinking water and place it back in the coffee machine.
4) Rinse the coffee machine. Dispose of this water.
5) The Siemens Bosch Brita Intenza Water Filter is now thoroughly rinsed and ready for use!
Suitable for the following Siemens coffee machines
All Siemens EQ.series coffee and espresso machines. Siemens EQ3, Siemens EQ6, Siemens EQ9, Siemens EQ6 Plus, Siemens EQ.6 Plus S800, Siemens EQ9 S300, Siemens EQ.9 S500, Siemens EQ9 S500, Siemens EQ 300, Siemens EQ3 S100, Siemens EQ4, Siemens EQ400, Siemens EQ 500, Siemens EQ6 S100, Siemens EQ6 S500, Siemens EQ6 700, Siemens EQ6 Plus S300, Siemens EQ7, Siemens EQ 700, Siemens EQ8 series 600, Siemens EQ8695, Siemens EQ8, Siemens EQ8681, Siemens EQ8693, Siemens EQ872DV01R, Siemens EQ8 series 900, Siemens EQ8 series 300, Siemens EQ9 S700, Siemens EQ9 Plus, Siemens EQ9 400, Siemens EQ9865, Siemens EQ6 Plus S800
| | |
| --- | --- |
| Name | EQ Series - Brita Intenza Water Filter Value Pack |
| Brand | SIEMENS |
| Article code | 17005980 |
| SKU | E-0594 |
| EAN | 4242003900437 |
5

stars based on

2

reviews
Wszystko było idealnie wręcz Super
Door
Pawel
op 21-12-2022
Wszystko było idealnie wręcz Super
Door
Pawel
op 21-12-2022