BOSCH Tassimo Descaling Tablets (4 pcs)
ECCELLENTE
You save 22%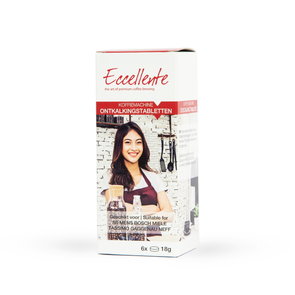 View
Product Information
Contents
4 Bosch Tassimo descaling tablets, 18 grams per descaling tablet.
Fully descale twice.
Description
The Tassimo machines have an automatic descaling programme. Regularly descaling your Tassimo coffee machine ensures a longer lifespan and correct function. The taste of your coffee, espresso, latte, cappuccino etc. will be improved when you descale. Regular descaling with Tassimo descaling tablets ensures that you get great tasting coffee every time.
Instructions - How to descale a Tassimo coffee machine
Step 1. The Tassimo machine has the red light showing, so it is time to descale.
Step 2. Fill the water tank with clean water and put two descaling tablets in the water.
Step 3. Remove the special yellow descaling t-disk from the side of the machine and put this in the cup container.
Step 4. Put an empty can of 500 ml on the drip tray.
Step 5. Put the filled water tank back in the Tassimo machine and push the burning lamp for 5 seconds.
Step 6. The Tassimo coffee machine start now automatically the descaling process. (it takes about 30 minutes)
Step 7. Rinse rinse the water tank and fill it again with water.
Step 8. Now hold the coffee button pressed so the machine can rinse, the machine rinsed 3 times.
Step 9. Remove again the descaling t-disk and place storage compartment back.
See full manual how to maintain a Bosch Tassimo
Comments
If you descale and clean your Tassimo coffee machine regularly, then you will be sure to get high-quality coffee. You should also clean the barcode scanner; do this with a soft, moist towel to make sure this functions correctly.
This Tassimo descaler is suitable for all kinds of Bosch and Braun Tassimo coffee machines.
including the latest Tassimo machines, which are available in the United Kingdom: Tassimo VIVY (T12), Tassimo VIVY II (T12), Tassimo AMIA (T20), Tassimo FIDELIA (T40), Tassimo CHARMY (T55), Tassimo SUNY (T32), Tassimo Joy, Tassimo FIDELIA+ (T65), Tassimo CADDY (T70)
Product numbers: TCZ6004, 311530, 311909
| | |
| --- | --- |
| Name | Tassimo Descaling Tablets (4 pcs) |
| Brand | BOSCH |
| Article code | TCZ6004 |
| SKU | E-0222 |
| EAN | 4242002763217 |
| Safety Sheet | https://issuu.com/everlake/docs/e-0222-tassimo-ontkalkingstabletten_3c70ee6dd20f62 |
| Previous product numbers | E-0222 - E0222 - 311530 - 00311530 - 311909 - 00311909 |
| Condition | New |