SIEMENS EQ Series - Brita Intenza Water Filter TZ70003
ECCELLENTE
You save 32%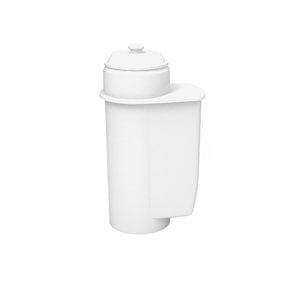 View
Product Information
Content
1 Siemens EQ.series - Intenza Water Filter
Good for 2 months of filtered water Product number TZ70003
Description
To keep your machine performing longer, we recommend the use of a water filter. The Siemens EQ.series Intenza Water Filter is perfect for improving the taste of your coffee. A water filter reduces certain substances such as chlorine, lead, and copper. In addition, the Siemens EQ.series Intenza Water Filter protects against limescale build-up, which gives your Siemens machine a longer lifespan.
Our experts recommend the Siemens EQ.series Intenza Water Filter when the water hardness is higher than ±7˚ German Hardness. The higher the water hardness in your region, the more you can benefit from a water filter. You can set your water filter to a specific water hardness. Based on this, you can calculate when you need to replace your Siemens EQ Intenza Water Filter.
Capacity at different settings Soft water setting A: 50 liters (300 cups) Medium water setting B: 40 liters (250 cups) Hard water setting C: 30 liters (200 cups)
Instructions
1. Remove the water reservoir, discard any water present, and check that the reservoir is clean.
2. Place the Siemens Bosch Brita Intenza Water Filter in the reservoir. Press firmly until the end while making a slight turning motion.
3. Fill the water reservoir with fresh drinking water and replace it in the coffee machine.
4. Flush the coffee machine. Discard this water.
5. The Siemens Bosch Brita Intenza Water Filter is now properly flushed and ready to use!
Note
Despite the water filter, you may still need to descale periodically. This is because the water filter allows a small amount of limescale through for the taste of the coffee.
Suitable for the following Siemens coffee machines:
All Siemens EQ.series coffee and espresso machines, Siemens EQ3, Siemens EQ6, Siemens EQ9, Siemens EQ6 Plus, Siemens EQ.6 Plus S800, Siemens EQ9 S300, Siemens EQ.9 S500, Siemens EQ9 S500, Siemens EQ 300, Siemens EQ3 S100, Siemens EQ4, Siemens EQ400, Siemens EQ 500, Siemens EQ6 S100, Siemens EQ6 S500, Siemens EQ6 700, Siemens EQ6 Plus S300, Siemens EQ7 Plus, Siemens EQ7, Siemens EQ 700, Siemens EQ8 series 600, Siemens EQ8695, Siemens EQ8, Siemens EQ8681, Siemens EQ8693, Siemens EQ872DV01R, Siemens EQ8 series 900, Siemens EQ8 series 300, Siemens EQ9 S700, Siemens EQ9 Plus, Siemens EQ9 400, Siemens EQ9865, Siemens EQ6 Plus S800.
| | |
| --- | --- |
| Name | EQ Series - Brita Intenza Water Filter TZ70003 |
| Brand | SIEMENS |
| Article code | TZ70003 |
| SKU | E-0550 |
| EAN | 4242001148282 |
| Safety Sheet | https://issuu.com/everlake/docs/58300000203191_ags_de_a |
| Previous product numbers | 17004340 - E-0550 E0550 - 575491 - 17000705 - 00575491 - 468009 - 00468009 - 467873 - 00467873 - TZ70003 - 17000706 - TZ70033 |
| Condition | New |
5

stars based on

1

reviews
Very good service and quality.
Door
Iwona
op 22-07-2023