SIEMENS Claris Water Filter
ECCELLENTE
You save 24%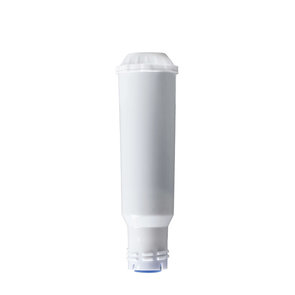 View
Product Information
Contents
Siemens Claris water filter. 
Filters the water for 2 months.
Description
The Siemens Claris water filter provides an enhanced flavour to make the best possible cup, ensuring a perfect coffee experience. It also increases the durability of your coffee and espresso machine by protecting it from the harmful effects of limescale. Using the water filter reduces the presence of pollutants such as chlorine, lead and copper.
Instructions
Step 1. The coffee machine needs to be switched on.
Step 2. Place a container (at least 0.5 litres capacity) beneath the tube.
Step 3. Remove the old filter by hand or with an accessory by turning anticlockwise.
Step 4. Place the new Siemens Claris water filter in the water reservoir.
Step 5. Press and hold 'P' on the display for about 3 seconds.
Step 6. Select 'FILTER YES/NEW'.
Step 7. Press "P". The indicator light will start to flash.
Step 8. Finish the programme by pressing the '/| ' key.
Step 9. The machine will be automatically rinsed and the water will collect in the container. You can throw this water away.
Comments
If you live in a hard-water area, then using a water filter is highly recommended. You will prevent the damage that can be caused by limescale and have better-tasting coffee.
Claris water Filter for Bosch, Siemens and Neff coffee and espresso machines.
Product number 461732 | TCZ6003 | TZ60003
| | |
| --- | --- |
| Name | Claris Water Filter |
| Brand | SIEMENS |
| Article code | TZ60003 |
| SKU | E-0036 |
| EAN | 4012074259112 |
| Previous product numbers | E-0036 - E0036 - TZ60003 - TZ6003 - 00461732 - 461732 - 00310984 - 310984 |
| Condition | New |
5

stars based on

1

reviews
Great product. - We have been using this filter for a long time. Does what it's meant to do. Our water supply is hard and produces scale very quickly. This water filter is essential.
Door
ST
op 09-11-2020