SAGE Espresso Cleaning Tablets - 8 pcs
ECCELLENTE
You save 58%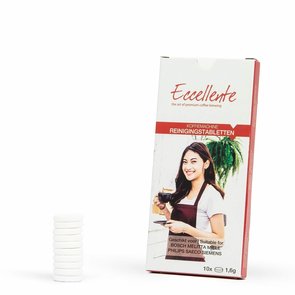 View
Product Information
Contents
Eight cleaning tablets, each 1,5 grams.
Eight cleaning tablets are good for eight cleaning doses.
Description
When a coffee and espresso machine are regularly used there will be residues of coffee oils and fats. These residues come from the coffee beans that go through the pipes and conduits. The oils and fats can clog up the pipes, which can result in damage to your costly machine. The overall taste will also be affected if there is much residue in your machine.
The use of cleaning tablets will get rid of all the coffee residue that has build up in your machine. These cleaning tablets by Sage are designed to safely and effectively remove coffee oils and residues on espresso machine parts.
Contains: 30% and more phosphates, 5% or over but less than 15% oxygen-based bleaching agents, less than 5% anionic surfactants.
These Sage Cleaning Tablets are Suitable for the following Espresso Machines:
the Oracle™ Touch (SES990)
the Oracle™ (SES980 - Batch 1750 & up)
the Bambino® Plus (BES500)
the Barista Pro™ (SES878)
the Barista Express™ (BES875 SES875 - Batch 1735 & up)
the Barista Touch™ (SES880)
the Dual Boiler™ (BES920 - Batch 1749 & up)
the Duo-Temp™ Pro (BES810 - Batch 1738 & up) 
Instructions
Insert one tablet into the special opening and follow the machine manufacturer's cleaning and maintenance instructions.
Comments
The Sage Espresso cleaner does not have a descaling effect. For descaling we recommend Sage Descaler.
| | |
| --- | --- |
| Name | Espresso Cleaning Tablets - 8 pcs |
| Brand | SAGE |
| Article code | SEC250 |
| SKU | E-0523 |
| EAN | 9312432030045 |
| Safety Sheet | https://issuu.com/everlake/docs/sage_bec250_cleaning_tablets_sds_-en |
| Previous product numbers | SEC250 - E0523 - E-0523 - SEC250NEU0NEU1 - BEC250UK |
| Condition | New |
5

stars based on

2

reviews
Really quick delivery. Thanks
Door
Graeme
op 18-09-2022
satisfied - very satisfied with the descaler
Door
coffees
op 10-12-2020