SAGE Claro Swiss Water Filter BES008
ECCELLENTE
You save 13%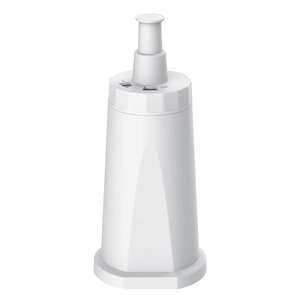 View
Product Information
Contents
1 Sage ClaroSwiss water filter.
Filters the water of the Sage machine for 3 months.
Description
The Sage Claroswiss water filter provides an enhanced flavour to make the best possible cup, ensuring a perfect coffee experience. It also increases the durability of your coffee and espresso machine by protecting it from the harmful effects of limescale. Using the water filter reduces the presence of pollutants such as chlorine, lead and copper.
This Sage ClaroSwiss Descaler is suitable for the following Espresso Machines:
the Oracle™ Touch (SES990 - BES990)
the Oracle™ (SES980 - BES980)
the Bambino® Plus (BES500)
the Barista Pro™ (SES878 - BES878)
the Barista Express™ (SES875 - BES875)
the Barista Touch™ (SES880 - SES800 - BES880 - BES800)
the Dual Boiler™ (BES920)
the Duo-Temp™ Pro (BES810) 
the Precision Brewer (BDC400/SDC400 BDC450/SDC450).
Instructions
Step 1. Remove the water reservoir of the coffee machine, discard any water in there and check if the reservoir is clean.
Step 2. Place the Sage Claroswiss water filter in the reservoir.  
Step 3. Fill the water reservoir with clean tap water and place it back in the machine.
Step 4. Flush through the coffee machine and discard the water.
Watch this Youtube instruction video how to montage the filter if it does not fit (dutch video).
Comments
If you live in a hard-water area, then using a water filter is highly recommended. You will prevent the damage that can be caused by limescale and have better-tasting coffee.
Claroswiss / Claro Swiss water filter for Sage, Breville and Solis coffee and espresso machines.
| | |
| --- | --- |
| Name | Claro Swiss Water Filter BES008 |
| Brand | SAGE |
| Article code | BES008 |
| SKU | E-0516 |
| EAN | 9312432028165 |
| Previous product numbers | SES008WHT0NEU1 BES008 - E-0483 - E0483 - 700.81 - 70081 - 700-81 - SES008WHT0NEU1 - BES0080NXX1 - Claro swiss - BES008 - SES008 |
| Condition | New |
4.65

stars based on

3

reviews
Really quick delivery. Thanks
Door
Graeme
op 18-09-2022
Good product but expensive. Good retailer very quick response and in stock!
Door
Phil
op 23-08-2022
Good price / quality - The Saeco cleaning tablets are pretty cheap in comparison to the other brands.
Door
Product reviewer Descaler UK
op 21-01-2016