SIEMENS BOSCH Brita Intenza Water Filter
ECCELLENTE
You save 15%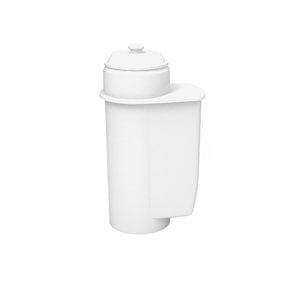 View
Product Information
Contents
Siemens Brita Intenza water filter
Up to two months' water filtration.
Description
The Siemens Brita Intenza water filter purifies the water, enhancing the flavour, aroma and appearance to ensure a perfect coffee experience. It also increases the durability of your coffee machine by protecting it from limescale build-up. Using the Siemens Intenza water filter reduces water pollutants like chlorine, lead and copper.
Instructions
Step 1. Remove the water reservoir of the coffee machine, discard any water in there and check if the reservoir is clean.
Step 2. Place the Intenza water filter in the reservoir. Push it all the way in with a slightly rotating motion.
Step 3. Fill the water reservoir with clean tap water and place it back in the machine.
Step 4. Flush through the Siemens coffee machine and discard the water.
Comments
If you live in a hard-water area, then a water filter is highly recommended. Your water filter will prevent the build-up of limescale and improve the taste of your coffee.
Product number TZ70003
Brita Intenza water filter for Bosch, Siemens, Gaggenau, Neff coffee and espresso machines.
Suitable for: Bosch: TCA7101, TCA7109, TCA7121, TCA7129RW, TCA7301, TCA7321, TCA73F1/03, TCA7601/02, TCA7601/03, TCA7621RW/03, TCC78K750/02, TCC78K750/03, TCC78K750/93, TCC78K750A/02, TCC78K750A/03, TCC78K750A/93, TCC78K750B/02, TCC78K750B/03, TCC78K750B/93, TCZ7003(00), VeroProfessional, VeroProfessional 100, VeroProfessional 300, EQ3, EQ.3, EQ.5, EQ5, EQ6, EQ.6, EQ.7, EQ7, EQ8, EQ.8, EQ9, EQ.9;Siemens: TK76001/01, TK76001/02, TK76001/03, TK76001/92, TK76001/93, TK76001CH/01, TK76001CH/92, TK76001CH/93, TK76009/01, TK76009/02, TK76009/03, TK76009/04, TK76009/92, TK76009/93, TK76009CH/01, TK76009CH/92, TK76009CH/93, TK76009GB/01, TK76011/03, TK76201RW/03, TK76201RW/04, TK76209RW/03, TK76209RW/04, TK76501DE/03, TK76501DE/04, TK76509DE/03, TK76509DE/04, TK76F09/01, TK76F09/02, TK76F09/03, TK76F09/04, TK76F09/05, TK76F09/92, TK76F09/93, TK76K572/01, TK76K572/02, TK76K572/03, TK76K572/93, TK76K572CH/01, TK76K572CH/02, TK76K572GB/01, TK76K572GB/02, TK76K572GB/03, TK76K572GB/93, TZ70003(00), EQ3, EQ.3, EQ.5, EQ5, EQ6, EQ.6, EQ.7, EQ7, EQ8, EQ.8, EQ9, EQ.9;Neff: CV77V60N01/01, CV77V60N01/02, CV77V60N01/03, CV77V60N01/93, CV77B60N0GB/01, CV77V60N0GB/02, CV77V60N0GB/03, CV77V60N0GB/93
| | |
| --- | --- |
| Name | Brita Intenza Water Filter |
| Brand | SIEMENS BOSCH |
| Article code | 575491 |
| SKU | E-0035 |
| EAN | 4242001148282 |
| Safety Sheet | https://issuu.com/everlake/docs/58300000203191_ags_de_a |
| Previous product numbers | E-0035 - E0035 - 575491 - 17000705 - 00575491 - 468009 - 00468009 - 467873 - 00467873 - TCZ7003 - TZ70003 - 17000706 - TZ70033 - TCZ7033 - 00576335 - 576335 |
| Condition | New |
5

stars based on

1

reviews
Good quality genuine product, delivered the next day. Good service with competitive pricing.
Door
colin
op 08-01-2023