NIVONA Special Liquid Descaler - 500ml
ECCELLENTE
You save 12%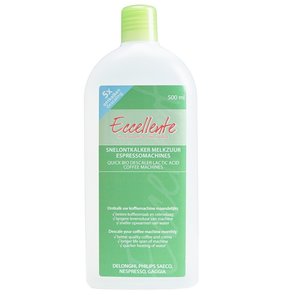 View
Product Information
Contents
1x Nivona Premium Liquid Descaler - 500ml
Good for 5 descaling cycles.
Description
The Nivona Premium Liquid Descaler protects your Nivona coffee machine from build-up limescale. This descaler removes all stubborn limescale from your Nivona coffee machine safely and effectively. When limescale builds up in your coffee machine it increases the time that your coffee machine has to warm up. The pipes of the machine will get clogged as well what can result in damage to your Nivona machine.
Our advise is to descale once every to month to keep your Nivona machine in its best condition.
Nivona descaling manual/user instructions
- Pour 0.5 litres of water into the water tank
- Add approx. 100 ml of liquid descaling agent
- Switch on the machine
- After descaling, rinse 2-3 times with clean water
| | |
| --- | --- |
| Name | Special Liquid Descaler - 500ml |
| Brand | NIVONA |
| Article code | 390700300 |
| SKU | E-0418 |
| EAN | 4260083467039 |