MELITTA Caffeo Perfect Clean Care set
ECCELLENTE
You save 31%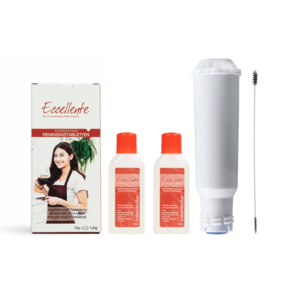 View
Product Information
Contents
In this set there are five different products:
• One bottle of Anti-Calc liquid descaler (250ml)
• One package of ten Perfect Clean cleaning tablets
• One Pro-Aqua water filter
• One Perfect Clean microfiber cloth
• One cleaning brush
Description
Limescale and coffee residues will build up when your coffee machine is used on a daily basis. The water that goes through your coffee machine contains limescale. The limescale builds up on the pipes and conduits of your coffee machine. Limescale greatly reduces the lifespan of your machine. Coffee residues are made up out of fats and oils. These coffee residues can harm the taste of your coffee and can even create blockages in the pipes of your espresso machine.
This Melitta Perfect Clean set is the best way to maintain your coffee machine at a lucrative price. Limescale and other coffee residues will no longer be a problem in your daily routine. The taste of the coffee out of your machine will increase in a positive way. The lifespan of your coffee machine will also be extended.
The Melitta Caffeo Perfect Clean set is suitable for the following Melitta machines: Caffeo Bistro, Caffeo Gourmet, Caffeo Solo, Caffeo Solo & Milk, Caffeo Lattea, Caffeo CI, Barista T, Melitta Barista, Melitta Varianza, Melitta Passione
Instructions 
Please follow the instructions given on the bottle and in the Melitta coffee machine manual.
Comments
By purchasing this package, you save a lot compared to individual sales.
| | |
| --- | --- |
| Name | Caffeo Perfect Clean Care set |
| Brand | MELITTA |
| Article code | 6780190 |
| SKU | E-0093 |
| EAN | 4006508227532 |
| Safety Sheet | No |
| Previous product numbers | 6640095 - 6747190 - E-0093 - E0093 - 6762523 |
| Condition | New |
4.5

stars based on

2

reviews
Melitta Milk System Clean - The System Clean is used to clean the milk frother on a weekly basis. Regular clean with the product helps ensure that the frother valve does not block up with congealed milk. Seems to do the job!
Door
Algernon4
op 04-12-2020
Perfect product and prices
- Absolutley fantastic service from descaler, item arrived next day and great price much cheaper than elsewhwre. Will certainly be using descaler for all my coffee machine supplies from now on. Thank you. Well done with perfect forumula for ecommerce.
Door
Chris C
op 19-03-2019