ECCELLENTE Water Filter for Bosch
Best choice
Eccellente has been developed and produced by us and extensively tested in our lab. Our Eccellente products work at least as well and often better than the original product!
Product Information
Contents
Eccellente water filter for Bosch coffee machines.
This filter needs to be replaced after every 50 litres or every two months, whichever comes soonest.
Description
This Eccellente water filter has been specially developed for Bosch coffee machines. It filters chlorine, copper, lead, pesticides and limescale from the water and ensures cleaner and better-tasting water. Using this filter protects the machine and enhances its durability. The filter has an organic composition.
Instructions

Step 1. Place a container of at least 0.5 litres beneath the tube. 
Step 2. You can remove the old water filter by hand or with an accessory. Turn anticlockwise. 
Step 3. Place the new water filter in position.
Step 4. Rinse the machine. The water will collect in the container. Throw this water away.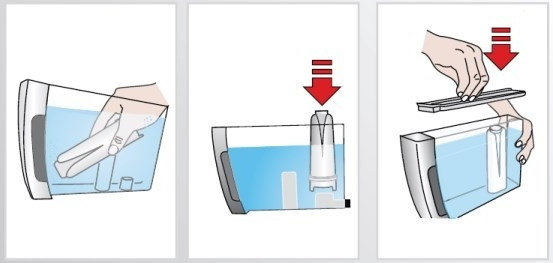 Comments
If you live in a hard-water area, then you can prevent limescale damage, extend the lifespan of your machine and ensure the best possible cup of coffee by installing a water filter. Limescale will build up fastest in hard-water areas so find out if this affects you and protect your coffee today.
| | |
| --- | --- |
| Name | Water Filter for Bosch |
| Brand | ECCELLENTE |
| Article code | E-0274 |
| SKU | E-0274 |
| EAN | 0737212978864 |
| Safety Sheet | https://issuu.com/everlake/docs/e-0274-claris-waterfilter_035aad8b172772 |
| Previous product numbers | F088 |
| Condition | New |