ECCELLENTE Water Filter for Melitta
Best choice
Eccellente has been developed and produced by us and extensively tested in our lab. Our Eccellente products work at least as well and often better than the original product!
Product Information
Contents
Eccellente water filter for Melitta coffee machines.
This filter needs to be replaced after every 50 litres or every two months, whichever comes soonest.
Description
The Eccellente water filter has been specially developed for Melitta coffee machines. Your Melitta coffee machine is at its best when it has pure, clean water to use. Filter out the chlorine, copper, lead, pesticides and limescale from the water with this organic-composition water filter to ensure that you give your Melitta coffee machine the cleanest-possible water for the best-possible coffee experience.
Instructions

Step 1. Place a container of at least 0.5 litres beneath the tube. 
Step 2. You can remove the old water filter by hand or with an accessory. Turn anticlockwise. 
Step 3. Install the new water filter in position.
Step 4. Rinse the machine. The water will collect in the container. Throw this water away.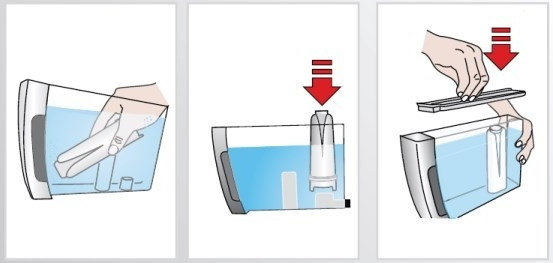 Comments
A water filter is particularly important if you live in a hard-water area. Water quality is an important factor in the quality of your coffee, so use a water filter to avoid problems with your machine, and to ensure the best-quality coffee, every time.
Suitable for: Melitta Avanza, Melitta Caffeo Gourmet, Melitta Caffeo Lattea, Melitta Barista T, Melitta Barista, Melitta Varianza, Melitta Latticia OT, Melitta Caffeo Solo, Melitta Caffeo Bistro, Melitta Caffeo CI, Melitta Caffeo Lounge, Melitta Passione.
| | |
| --- | --- |
| Name | Water Filter for Melitta |
| Brand | ECCELLENTE |
| Article code | E-0274 |
| SKU | E-0274 |
| EAN | 0737212978857 |
| Safety Sheet | https://issuu.com/everlake/docs/e-0274-claris-waterfilter_035aad8b172772 |
| Previous product numbers | F088 |
| Condition | New |
5

stars based on

4

reviews
Great product
Door
Tony
op 12-08-2023
Fits the melitta coffee machine looks the same as the original. One thing I noticed was this has a filter at the base of the water to prevent debris entering the filter. The melitta doesn't have.
Door
Tony
op 12-08-2023
Works well and an excellent price! Always buy from this company and highly recommend.
Door
Alexandra
op 14-03-2023
Fits the coffee machine perfectly and further removes calcium deposits from already filtered water.
Door
Ken
op 08-01-2023