Swiss Steamer - 500 ml
DURGOL Swiss Steamer - 500 ml
DURGOL Swiss Steamer - 500 ml
From Durgol - the number 1 descaler in Switzerland. Easy and safe to use. Effortless and fast decalcification. Decalcification for all brands of steam oven and evaporators. Leaves no residue - steamer is food safe after decalcification and rinsing.
Try our Private Label
You save 19%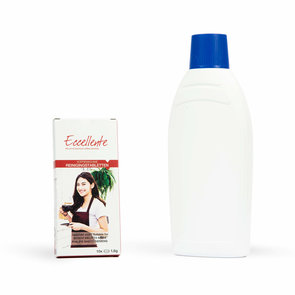 ECCELLENTE Maintenance set
With the Eccellente Maintenance Kit you maintain your espresso machine correctly. Keep your costly coffee machine in top condition with the Eccellente maintenance kit! Suitable for Bosch, also suitable for Siemens, Gaggenau and Neff.
Durgol Swiss Steamer guarantees effortless, fast and safe decalcification of premium steamers of all brands - storage water heater evaporators, bowl evaporators and water tank evaporators.
Easy and safe to use: one bottle - i.e. one portion of Durgol Swiss Steamer is exactly the right dosage required to thoroughly decalcify a steamer with a decalcification program.
Box Contains 1 x 500ml Durgol Swiss Steamer
Name:
Swiss Steamer - 500 ml
Safety Sheet:
https://issuu.com/everlake/docs/e-0096-durgol-swiss-steamer_70b8d37bf5ddb2
Previous product numbers:
E-0096 - E0096 - 90001420
| Sheila
12-03-2022
Worked a treat on the steam oven. Easy to use and once the oven was cleaned I used the solution to clean taps and sinks.
| Adrienne
10-01-2022
Seems to have worked wonders. Easy to use and efficient.
5
stars based on
2
reviews