DURGOL Swiss Espresso (2 x 125 ml)
ECCELLENTE
You save 68%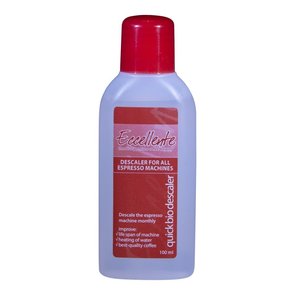 View
Product Information
Contents
Two 125 ml bottles Durgol Swiss Espresso descaler.
Descale twice with this pack.
Description
Durgol® swiss espresso® is a special descaler for high-quality coffee machines of all brands of both fully and semi-automatic coffee machines, piston machines and machines with coffee pod or capsule systems.
The coffee machine will be food-safe, with no residue left behind after rinsing. This product is what your coffee machine has been asking for – it will work better and have an extended life.
Instructions
1) Add one bottle (125 ml) of Durgol® swiss espresso® to the water tank.
2) Add another 250–375 ml of clean water to the tank.
3) Start the coffee machine's descaling procedure.
4) Rinse the machine after descaling with clean water.
Comments
The Durgol descaler does not clean dirt and coffee grease from the machine. We recommend that you use Eccellente Cleaning Tablets for that.
| | |
| --- | --- |
| Name | Swiss Espresso (2 x 125 ml) |
| Brand | DURGOL |
| Article code | 352 |
| SKU | E-0029 |
| EAN | 7610243002025 |
| Safety Sheet | https://issuu.com/everlake/docs/e-0029-durgol-swiss-espresso_453d82463879bd |
| Previous product numbers | E-0029 - E0029 - 7610243002025 - 352 |
| Condition | New |
5

stars based on

7

reviews
Always works well on my Lavazza machine and cheaper to buy the smaller twin pack than Lavazza's own brand which is expensive.
Door
WILLIAM
op 03-07-2023
After leaving my coffee machine for ages without descaling I definitely noticed the difference after using it. I will definitely use this product again in the future.
Door
Daniel
op 09-11-2022
Tatar - Very good and quick services! Thank you!
Door
Claudiu
op 24-07-2019
Works a treat on Nescafe Dolce Gusto - Cheaper than Amazon & works perfectly, will order here again for sure.
Door
Lorna
op 20-03-2019
Quality product - Very good item, works perfectly, thanks
Door
CCD
op 01-02-2019
the best descaler - This is the best descaler Ihave ever used. I strongly recommend
Door
sylwia
op 06-06-2016
Durgol is the best - This is the best descaler Ihave ever used. I strongly recommend it
Door
sylvia
op 06-06-2016