DELONGHI Coffee Machine Descaler (2 x 100 ml)
ECCELLENTE
You save 61%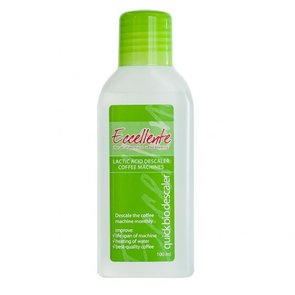 View
Product Information
Contents
2 bottles of 100ml Delonghi descaler
Gives 2 descaling doses.
Description
Limescale in your coffee or espresso machine will reduce the quality of the coffee and the durability of the machine. Why? Limescale build-up prolongs the time it takes to make the coffee, causing reduced heat transfer which results in a coffee of lower quality. The limescale build-up will keep thickening until it becomes a blockage. Limescale will lead to corrosion of the materials in the machine, resulting in damage. Limescale also leads to an increased energy consumption.
DeLonghi advises you to use the Ecodecalk descaler for the DeLonghi coffee machines.
The Delonghi EcoDecalk descaler:
• Is highly effective against limescale and will not damage your coffee machine.
• Will ensure the great taste of your coffee and increase the durability of your machine.
• Is cleansing and anti-bacterial.
• Is completely biodegradable.
• Is not corrosive or abrasive.
• Is simple and easy to use.
Instructions
Step 1. Pour 1 dose (100 ml) of DeLonghi Ecodecalk descaler into the water reservoir.
Step 2. Add one litre of water to the reservoir and stir the Delonghi descaler / water solution.
Step 3. Follow the directions in the manual of your DeLonghi coffee machine.
Step 4. After descaling, wash the water reservoir with clean tap water and rinse your machine.
Comments
This product has replaced the DeLonghi NOKALK.
| | |
| --- | --- |
| Name | Coffee Machine Descaler (2 x 100 ml) |
| Brand | DELONGHI |
| Article code | DLSC003 |
| SKU | E-0047 |
| EAN | 8004399327146 |
| Safety Sheet | https://issuu.com/everlake/docs/e-0171-e-0047-delonghi-ecodecalk-de_3b826525c178ec |
| Previous product numbers | E-0047 - E0047 - DLSC003 - NOKALK - E-0047 - E0047 - DLSC003 - NOKALK - DLS-C003 - DLSC200 - DLS-C200 - 5513296021 - 5513296011 - 5513214841 - 5513292821 - 3092257 - 5060494791452 - 655794, delonghi_3092257 - 5513.214841 - 5513214841 |
| Condition | New |
4.8

stars based on

50

reviews
Easy use - Worked very well. <br>Half the price if other makes.<br>would buy again.
Door
Shady
op 18-08-2019
Great value - Very easy to use and effective product. At these prices I was able to buy a good supply so I can always have some on hand for when the descale warning light comes on. We live in a very hard water area and this descaler works a treat. Great value
Door
Quigs
op 15-08-2019
Very good - I found the instructions clear and precise,and easy to administer,<br><br>the descaler cleaned my coffee machine thoroughly.
Door
Rendy
op 10-08-2019
Delongi descaler - Not being an expert on descaler, I stick to the one recommended, although it is expensive compared to proprietary descalers
Door
Coffee
op 02-08-2019
Excellent - I have used other suppliers' products to keep my espresso machine in good shape but none of them has impressed me as much as this one has done.
Door
P.S.
op 27-07-2019
,good product - Super purchase ,good product , good seller
Door
Iwona Sekowska
op 23-07-2019
Excellent - Brilliant product and does exactly as it says efficiently.
Door
Crane123
op 24-06-2019
Good value - What I needed at a good price
Door
Me
op 23-05-2019
Good product - Same as the descaler we received with the machine which seems to do a very good job and at a good price.
Door
LMelham
op 13-05-2019
Highly recommended - First time I have ordered ( descaler pack) from this company. Excellent product, delivery and after sales. Going forward will definitely be my website of choice for maintenance of my coffee machine.
Door
Christoph
op 01-05-2019
All Fine as Expected and Quick Deliver - All as expected product arrived very quickly and did the job
Door
gaz
op 16-04-2019
Flipping brilliant. - At last the red flashing light has gone out he he. I cannot believe the muck that came out and now my coffee tastes even better.
Door
Shimmy
op 02-04-2019
Only 3 Stars - Why only 3-Stars, product packaging. Mine arrived damaged and as a fluid it went everywhere and damaged the other packets and postmans bag suffered as well. Otherwise, product, service, delivery and especially customer service was all 5-Star.<br><br>Will definitely use again, kitchen towels at the ready.'
Door
River not a stream
op 19-03-2019
DeLonghi Coffee Machine Descaler - Does just what it says on the box, a must use product for the DeLonghi Coffee Machine.
Door
Dave
op 23-02-2019
descaler - Happy with the product,and when requested, received in good time.
Door
cant remember'
op 05-02-2019
Clean easy - Bought this descaler to replace the one that came with the coffee maker. It does just what it says on the packet. Easy. No fuss and simple to use.<br>Regular descaling is very important especially in a hard water area. I recommend this product.
Door
Double shot
op 04-02-2019
As requested - First time I've used descaler.co, excellent service good price and great delivery.
Door
Hb60
op 18-01-2019
Great - Ordering on-line is easy, the delivery was very fast, the descaler worked very well and the price was price very good!
Door
Richard
op 02-01-2019
Great priduct - Just what you need to keep your coffee machine in perfect order<br>
Door
Sueh
op 07-12-2018
excellent product - Good value, price very competitive, excellent product
Door
Rendy
op 30-11-2018
Good products - Good product - does what iss supposed to do. Delivery efficient. What more could I ask?'
Door
Outdoor girl
op 06-11-2018
Coffee machine - DeLonghi coffee machine needed descaling <br>I was so pleased to find this company on line <br>Best price very good service when I need to <br>Some more I know where to go well pleased
Door
Driver 1
op 03-11-2018
Coffee machine descaler - Very effective and easy to use.
Door
Nali
op 24-10-2018
SAVED MY COFFEE M/C - My Sage espresso m/c stopped working with no water flow.<br>Had always carried out the required maintenance as per instruction book.<br>After inquiring about this in a well known high street store I was recommended DeLongi <br>cleaner.<br>Found Descaler web and after purchasing product at half the price of the store the machine is now perfect.<br>Excellent price and delivery
Door
Marshpike
op 25-09-2018
Descaler - Great product
Door
Mp
op 19-09-2018
Excellent - Have been using descaler for many years ever since i bought my bean to coffee machine and it has always done what it was designed to do and kept my machine descaled
Door
Jonny
op 14-09-2018
Descaler - Excellent product full recommendation and very good and fast delivery!
Door
Ann
op 07-08-2018
Perfect Product - Works very effectively to keep coffee machine in perfect order.
Door
Desiree
op 13-06-2018
Excellent service. - Excellent descaler. Good and very prompt service arrived when you said it would will definitely use again and recommend to friends.
Door
Gilly
op 23-05-2018
Excellent - Turned up when said easy to use
Door
Mt
op 03-05-2018
DeLonghi Descaler - Very good product, does what its supposed to do brilliantly. Great service/delivery etc.<br>No problems, apart from that the descaler light won't stop flashing but that's the machine's fault not the descaler.'
Door
Bernadette
op 03-05-2018
Brilliant! - The product was great and customer service was very efficient when the product was damaged in transit. Product was replaced without question
Door
Me
op 01-05-2018
Descaler for coffee machine - Absolutely loving products from this company not just for best products they offer but for customer service as well <br>Descaler best price you ever find it and the quality top drow absolutely recommended as best seller company I ever dealt ***** 5 stars from me !!!
Door
Ewelina
op 16-03-2018
very good descaler - We are using it when the machine is alarming, it cleans it very well, and the taste of the coffee is improved. Very quick delivery as well.
Door
Kathy C
op 08-03-2018
Good product - My coffee maker suddenly stopped working so I purchased this item hoping it would solve problem. It arrived very quickly and there was enough to make it do twice. Did the job and machine word fine now. Followed instructions but would recommend doing a few dummy runs b4 making next brew to get rid of after taste (yeukk)
Door
Fairynuff
op 05-03-2018
Excellent product, dose the job well - The service and product excellenth
Door
John
op 03-01-2018
Filter M/c Descaler - I use a De longhi - filter machine and found the descaler to be quite effective - however I did have to rinse through several times to get rid of the smaller fragments.'
Door
Jonty
op 29-12-2017
Always does the trick - Weve been using this DeLonghi descaler for more than 5 years now, it's easy to use, and it always does the job.'
Door
Dori
op 12-12-2017
First class customer service - Product was damaged, called and replacement arrived next day.
Door
El
op 29-11-2017
Excellent product. - I have used before and now have 1 in hand and feel quite satisfied it has done its job well.
Door
Shirgus
op 27-11-2017
The right descaler at the right price - I purchased the product recommended to descale my DeLonghi coffee machine. Easy to use and discalced my coffee machine very well as expected.
Door
Wendy
op 04-11-2017
mr - Excellent product excellent company
Door
pete
op 15-08-2017
Fully satisfied - Came very promptly and did what it said on the tin'.'
Door
Coffee lover
op 04-08-2017
Coffee Machine descaler - Excellent product. Good price
Door
EJB62
op 10-05-2017
espresso descaler - This descaler worked very well in my DeLongi coffee machine. Worth doing on a regular basis.'
Door
coffee lover
op 24-10-2016
Works well on a filter drip coffee maker - I was releived to find that this product works on these drip coffee makers as well as the more upmarket ones. Good result!
Door
Richard
op 13-09-2016
Works like a Charm - This Descaler works like a charm. Cleans away all the limescale leaving the bean to coffee not leaving an after taste of limescale or having flakes of lime floating around. After flushing several times there is no after smell from this one unlike some of the other makes.
Door
Darryl
op 05-05-2016
Good value - It wont go off so it's good to get this in bulk to get it cheaper. Does exactly what says on the box and no issues with smell'
Door
Craig
op 27-03-2016
Good product - hard to use - I think the Neff Liquid descaler is a great and cheap product. However.. The descaling procedure is quite difficult.
Door
Product reviewer - Descaler
op 02-12-2015
Smart descaling, a little smelly - The Delonghi descaler is a great product. Only negative thing is that it smells a bit during descaling. The Eccellente Quick Bio Descaler - Lime scale - for Delonghi has a better smell I would say.
Door
Product reviewer - Descaler UK
op 30-10-2015