DELONGHI DLSC003 Coffee Machine Descaler (2 x 100 ml)
ECCELLENTE
You save 61%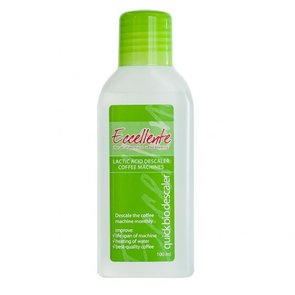 View
Product Information
Contents
2 bottles of 100ml Delonghi descaler
Gives 2 descaling doses.
Description
Limescale in your coffee or espresso machine will reduce the quality of the coffee and the durability of the machine. Why? Limescale build-up prolongs the time it takes to make the coffee, causing reduced heat transfer which results in a coffee of lower quality. The limescale build-up will keep thickening until it becomes a blockage. Limescale will lead to corrosion of the materials in the machine, resulting in damage. Limescale also leads to an increased energy consumption.
DeLonghi advises you to use the Ecodecalk descaler for the DeLonghi coffee machines.
The Delonghi EcoDecalk descaler:
• Is highly effective against limescale and will not damage your coffee machine.
• Will ensure the great taste of your coffee and increase the durability of your machine.
• Is cleansing and anti-bacterial.
• Is completely biodegradable.
• Is not corrosive or abrasive.
• Is simple and easy to use.
Instructions
Step 1. Pour 1 dose (100 ml) of DeLonghi Ecodecalk descaler into the water reservoir.
Step 2. Add one litre of water to the reservoir and stir the Delonghi descaler / water solution.
Step 3. Follow the directions in the manual of your DeLonghi coffee machine.
Step 4. After descaling, wash the water reservoir with clean tap water and rinse your machine.
Comments
This product has replaced the DeLonghi NOKALK.
| | |
| --- | --- |
| Name | DLSC003 Coffee Machine Descaler (2 x 100 ml) |
| Brand | DELONGHI |
| Article code | DLSC003 |
| SKU | E-0047 |
| EAN | 8004399327146 |
| Safety Sheet | https://issuu.com/everlake/docs/e-0171-e-0047-delonghi-ecodecalk-de_3b826525c178ec |
| Previous product numbers | E-0047 - E0047 - DLSC003 - NOKALK - E-0047 - E0047 - DLSC003 - NOKALK - DLS-C003 - DLSC200 - DLS-C200 - 5513296021 - 5513296011 - 5513214841 - 5513292821 - 3092257 - 5060494791452 - 655794, delonghi_3092257 - 5513.214841 - 5513214841 |
| Condition | New |
5

stars based on

1

reviews
Excellent service thanks
Door
leslie
op 25-01-2022