ECCELLENTE
You save 45%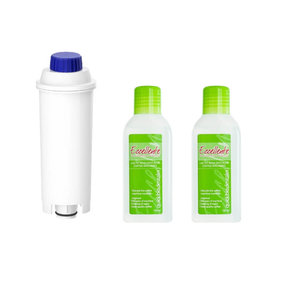 View
Product Information
Contents
1 bottle of De'Longhi EcoDecalk (200ml)
1 bottle of EcoMultiClean (250ml)
1 De'Longhi ECAM water filter
1 microfibre cloth
1 water hardness test
Description
With the De'Longhi Coffee Care Kit, you can maintain your De'Longhi Coffee machine in perfect condition. It is important to maintain your coffee machine to reserve the lifespan and overall quality of your coffee.
The De'Longhi EcoDecalk will descale your machine. This will remove all the build-up limescale in your coffee machine. Descaling is an essential for extending the lifespan of your machine. If you do not descale on time, this will cause blockages in the pipes of your machine. This ultimately results in damage to your valuable machine. Descale on time when your machine indicates it.
The bottle of EcoMultiClean will clean the milk system of your machine. When you use the milk system a lot, there will be accumulated milk residue in your machine. This is not good for the general hygiene of your machine. Regular cleaning of your milk system with this cleaner is therefore definitely recommended.
Preventing limescale is a must. You can prevent limescale from forming with the De'Longhi ECAM water filter. The water filter is good for about 2 months of filtered water.
The microfibre cloth can be used to easily clean the outside of your machine to make it spotless.
The water hardness test can be used to test the local water hardness.
Instructions
Follow the instructions of the coffee machine manual for the right instructions. Useable for all De'Longhi Coffee machines.
| | |
| --- | --- |
| Name | Coffee Care Kit |
| Brand | DELONGHI |
| Article code | DLSC306 |
| SKU | E-0557 |
| EAN | 8004399334281 |
| Previous product numbers | 1147116 - DLSC004 - 5461524 - 5513283501 - 226739 |
| Condition | New |