SIEMENS BOSCH Descaling Tablets (6 pcs)
ECCELLENTE
You save 18%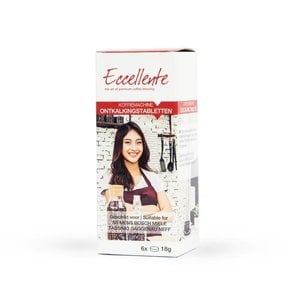 View
Product Information
Contents

6 Siemens and Bosch descaling tablets, 18 grams each. 
Gives you 3 to 6 descaling doses.
Description
Frequently used coffee machines develop limescale. Although limescale is not detrimental to your health, it does shorten the durability of your precious coffee and espresso machine. That is why it is necessary to regularly descale the machine with Siemens Bosch Decalcifying Tablets.
Limescale forms when water is heated or boiled. Limescale forms during the heating of 'hard water' which contains a lot of calcium and magnesium ions. The small pieces of limescale that form and can end up in your tea or coffee.
Siemens and Bosch coffee machines will display a message when it is time to descale the machine. For descaling use the special Siemens Bosch Decalcifying Tablets.
The limescale is safely and reliably removed by these Decalcifying Tablets.
Instructions
Siemens and Bosch coffee machine with a descaling programme:
Dissolve two Siemens Bosch descaling tablets into 0.5 litres of lukewarm water in a separate container. After five minutes pour the solution into the water tank. If necessary, fill the rest of the tank up to the water mark with lukewarm water. Please ensure that you carefully follow the appliance's descaling instructions.
Siemens and Bosch coffee machine without a descaling programme:
For the normal descaling process, use one Siemens Bosch decalcifying tablet in 0.5 litres of water, or two Siemens Bosch decalcifying  tablets for a more concentrated effect. Pour the solution into the water tank of the coffee machine or kettle. The heating element should then be switched on – please ensure that the solution does not foam over. After completion of the descaling process, the appliance should be rinsed three times with clean water. Please refer to the instructions for use of the machine / device.
Instructions in other languages are included with the Siemens Bosch descaling tablets (German, French, Spanish, Italian, Dutch, Slovakian, Czech, Polish, Russian).
Comments
The Siemens Bosch Decalcifying Tablets do not clean. For cleaning we recommend Bosch Cleaning Tablets or the Siemens Cleaning Tablets (depending on the brand of coffee machine)
Decalcifying Tablets for Bosch, Siemens and Neff espresso machines.
Product numbers: 311556, 310967, 310817, TCZ6002, TZ60002
| | |
| --- | --- |
| Name | Descaling Tablets (6 pcs) |
| Brand | SIEMENS BOSCH |
| Article code | 311864 |
| SKU | E-0038 |
| EAN | 4242001065763 |
| Safety Sheet | https://issuu.com/everlake/docs/e-0038-siemens-bosch-ontkalkingstab_902fa754fe5ff0 |
| Previous product numbers | E-0038 - E0038 - 311864 - 00311864 - 310972 - 311143 - 310452 - 310817 - 311556 - 310967 - 00310972 - 00311143 - 00310452 - 00310817 - 00311556 - 00310967 - TZ60002 - TCZ6002 - E-0038 - E0038 - 310967 - 311864 - 00311864 - 310972 - 311143 - 310452 - 31081 |
| Condition | New |